The church texting service you'll love.
Texting is the most immediate way to connect with your people. Do it best with Clearstream.
New plants to many of the largest and most influential churches in the U.S. rely on Clearstream as their texting service.
More than mass texting...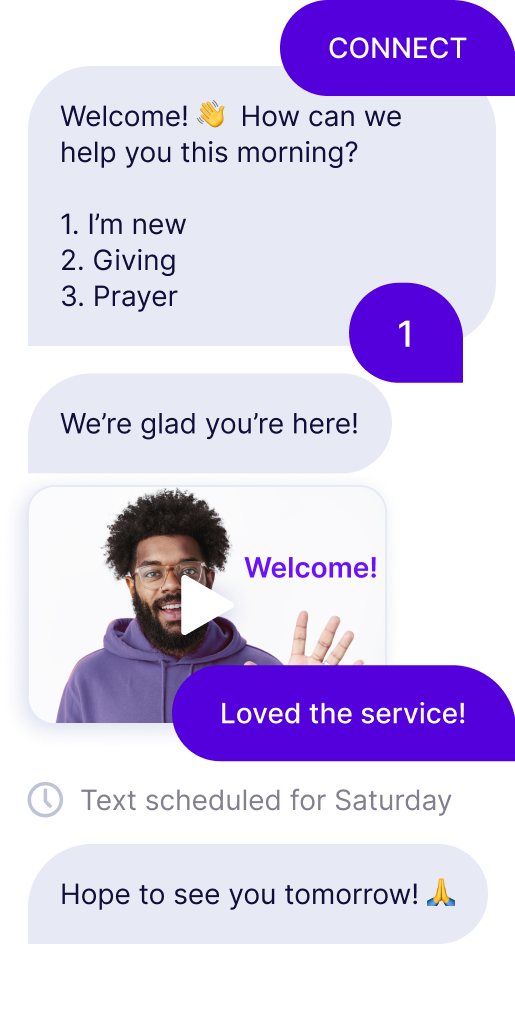 Clearstream scales as your church grows
Church Plants
Group texting from your phone isn't cutting it anymore. You need an affordable, simple church texting service. If you're a new church plant, you can use Clearstream free for one year.
Most Churches
Looking for the most effective way to communicate with your people, first-time guests, ministry leaders, and volunteers? We've got your back and you've got options.
Mega Churches
We know the church texting space better than anyone, including Twilio. Over the last 12 years we've built a tested platform that many of the largest churches in America rely on at scale.
What makes Clearstream different
We have a longstanding reputation for fast and knowledgeable support. It's part of the product we provide, not an add-on or afterthought. Regardless of how much you pay, you have full access to live chat, phone, Zoom calls, helpful guides, and video tutorials.
Plants and average-sized churches find Clearstream user-friendly and easy to implement church-wide. And many of the largest churches in America find Clearstream to be a reliable, delivers-at-scale-to-50k-people partner. We're not a basic SMS app built on Twilio.
Short Code & A2P 10DLC Provider
Clearstream is a vetted Premiere Partner with the Short Code Registry, the registrar for 100% of short codes in the U.S. We're also experts in the ever-changing rollout of A2P 10DLC.
Bootstrapped and Founder-Owned
Over 13 years, we've grown by simply building great software and providing great support, foregoing the traditional route of growing through debt or funding, and worrying about cash-flow runways. It's helped us stay product-focused.
Overview of Clearstream
PDF
Download. Print. Share with your team.
Start Your Free 30-Day Trial
Killer customer support on every plan. No contract, setup fees, or pushy sales tactics.