Text your People lists
You can easily sync your People lists into Clearstream and text them from within Clearstream. Your lists automatically sync after each Planning Center refresh runs, so any changes made in Planning Center will be reflected in Clearstream.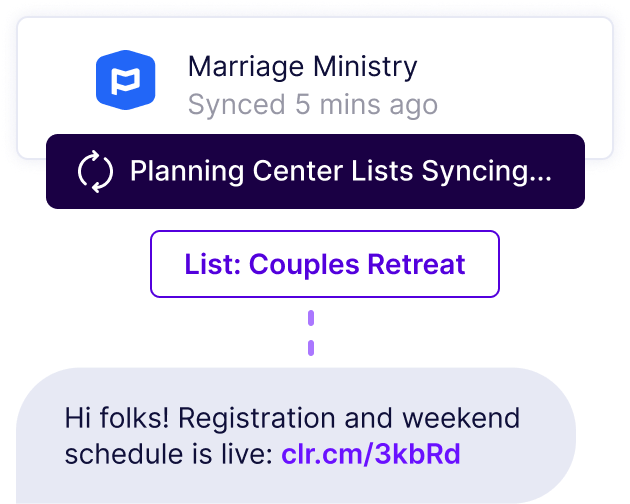 Create new people from incoming texts
When visitors text a keyword or enter an automated workflow, you can automatically reply with a digital connect card. That information can be pushed to Planning Center and a new person will be created. You can also optionally add them to a Planning Center Workflow.
Also, don't worry about duplicates; if the number already exists in Planning Center, we won't create a new person.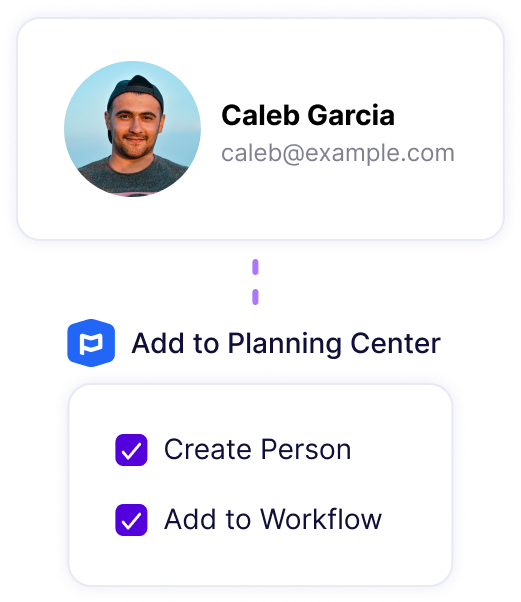 Retrieve profile data from Planning Center
When someone texts in to your Clearstream account, we'll immediately search for a matching phone number in Planning Center. If a match is found, we instantly sync their profile data into Clearstream.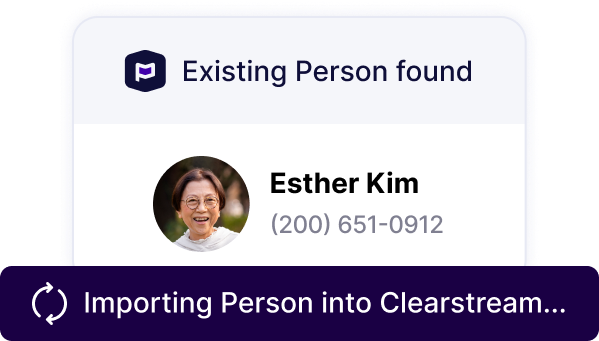 Send custom texts based on campus
If you're a multi-campus church, have everyone text the same keyword or enter the same workflow, but receive individualized responses based on their campus ID.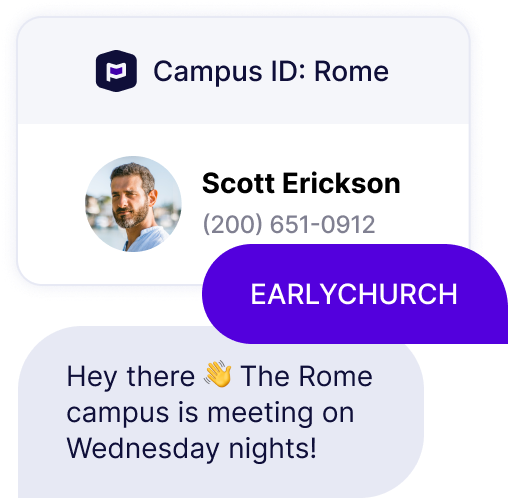 FAQ's
If someone opts out of Clearstream, will they sync back in when the Planning Center integration runs again?
No. We automatically scrub opt-outs. People are only opted back in if they choose to text a keyword or fill out a signup form.
Will people be removed from my list in Planning Center if they opt out in Clearstream?
No. They'll be removed from the list in Clearstream, but stay in Planning Center. This means that your synced list in Clearstream may be smaller than the list in your Planning Center account.
If someone in Planning Center has multiple phone numbers, which number will sync into Clearstream?
Here's how we prioritize which phone number field to pull from:

Mobile field

Home field

Work field

Even if the Home or Work field is marked primary, we'll still pull from the Mobile field first. If someone has multiple mobile numbers listed, we'll pull the first one listed unless one is marked primary, in which case we'll pull the primary number. If the number is listed under Fax, Pager, Skype, or Other it will not be synced into Clearstream.
What happens if I change someone's name in Clearstream who is synced from Planning Center?
When Planning Center syncs with Clearstream each night, it will change names to how they're listed in Planning Center. We treat Planning Center as the source of truth for your data, so if you want to change the name or number of a Planning Center contact, you'll have to make that change in Planning Center.
If John Doe and Jane Doe share the same mobile number in Planning Center, will both contacts be synced into Clearstream?
No. Each Clearstream contact must have a unique phone number. If two Planning Center People have the same phone number listed, we will only sync one of the contacts into Clearstream.
Which Planning Center lists can I sync into Clearstream?
Any lists you have access to in Planning Center can sync over, as long as the lists are visible to you.
Start Your Free 30-Day Trial
Killer customer support on every plan. No contract, setup fees, or pushy sales tactics.