Text-to-Join Keywords
A keyword is a word people text to your number in order to join a list and receive an auto-response. But with Clearstream keywords, you can do more. Trigger an automated workflow and route people down different paths using conditional branching and/or menu options.
For specific use-cases, like guest follow-up, build out automated follow-up texts and sync new subscriber info to your ChMS. And enjoy unlimited keywords with every number you create.
Try out a workflow
See a keyword workflow in action. Text "KEYWORD" to 94000 or scan this QR code. 👈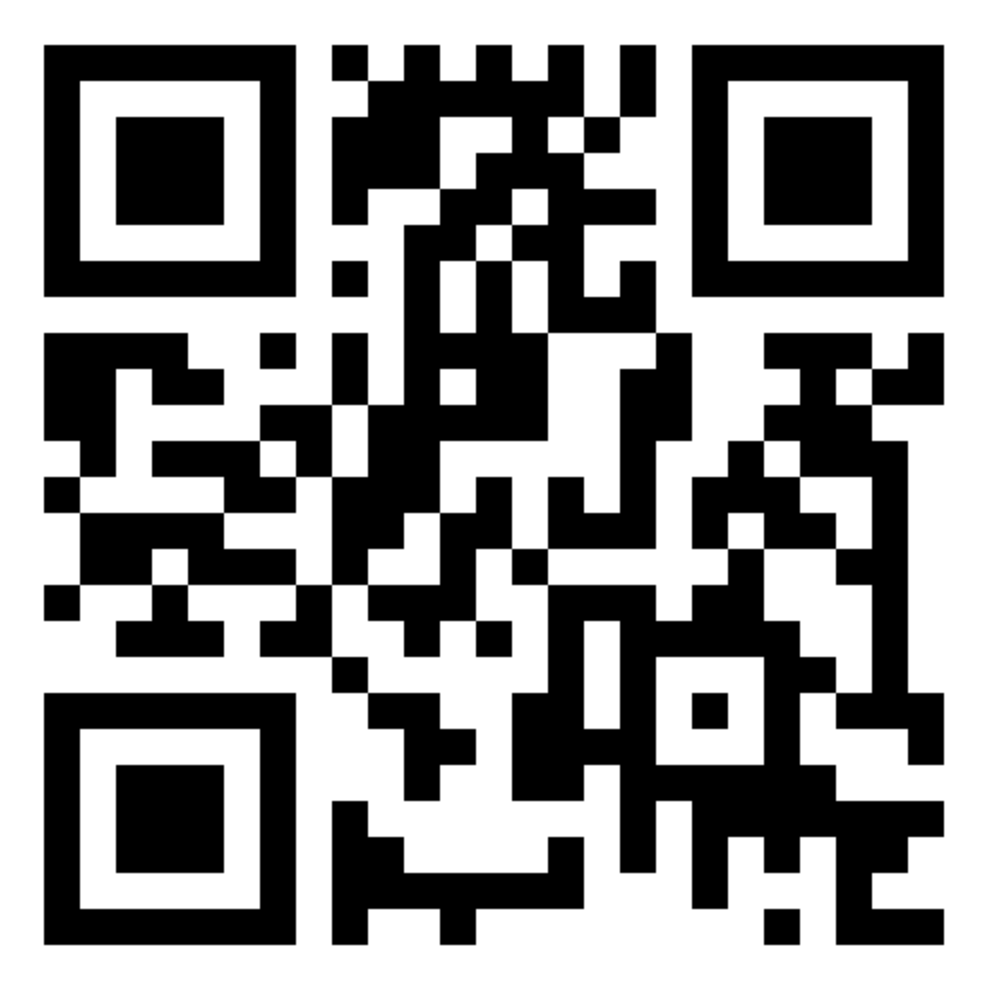 Send an auto-response
The basic function of a keyword is to let people opt-in to your Clearstream account, join a texting list, and receive an auto-response. This is great for first-time guest information, check-ins, event registrations, and anything else your church can think of.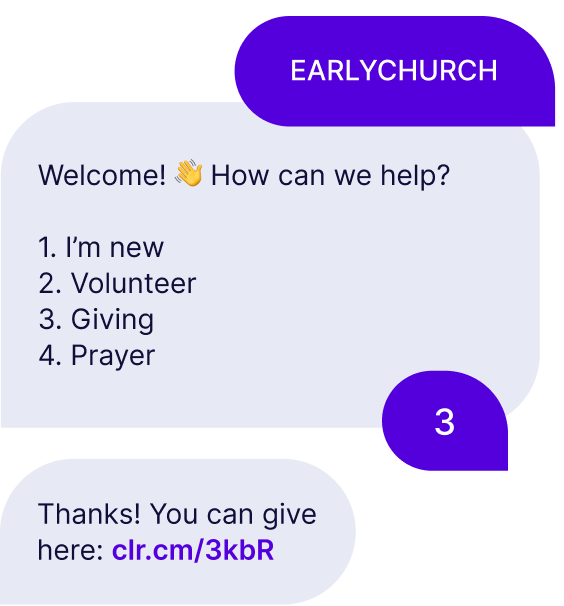 Send a connect card and start a follow-up workflow
Keywords can also trigger automated workflows, which are great for follow-up. Let's say you're implementing a first-time guest follow-up process. When someone texts a guest keyword (e.g. GUEST), send them a digital connect card to collect their information. Then send a series of scheduled texts over the next few weeks encouraging them to visit again.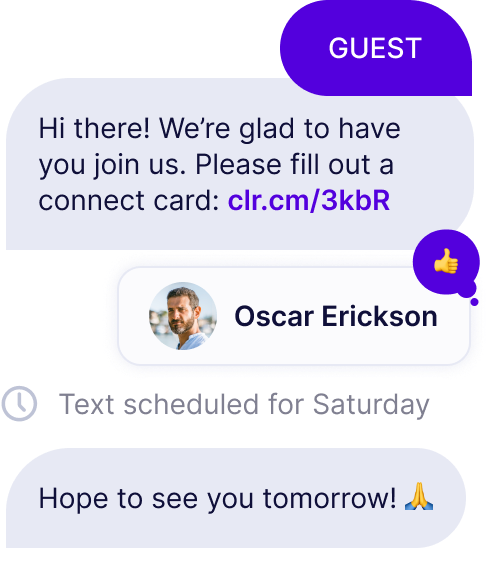 Push information to your church management system
Once you've collected information from a digital connect card, you can push that information to your ChMS to create a new person and optionally add them to a Group or Workflow. Clearstream integrates with these ChMS:
It's also worth mentioning that you won't have to worry about duplicate profiles. Clearstream automatically checks to see whether a phone number already exists in your ChMS. If it does, we sync the profile data into Clearstream instead of creating someone new.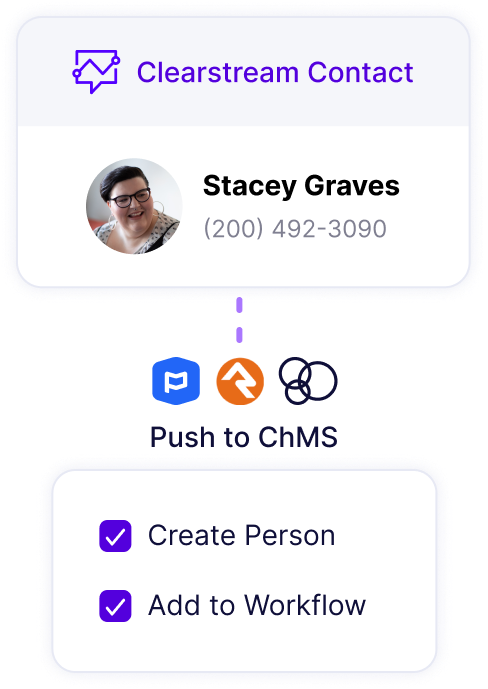 Send a menu of options
A keyword can also trigger a menu of options. When someone makes a choice, you can send a specific follow-up text, add them to a new list, or transfer them to a different workflow or subaccount.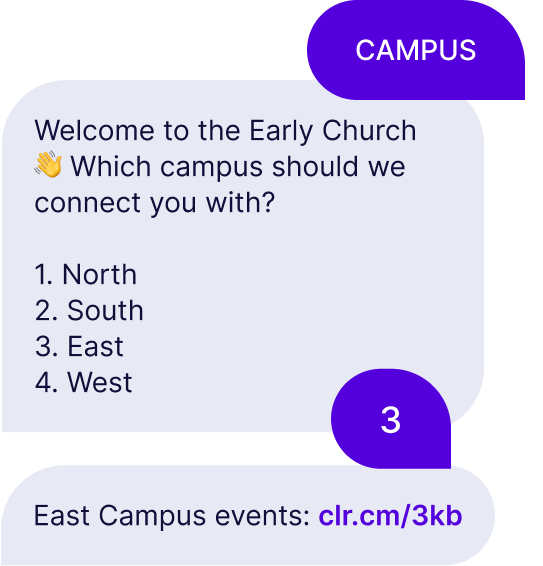 Send different texts based on different conditions
Set conditions inside of your workflow, like "first time using keyword" or "missing name." When someone texts a keyword for the second time or you don't have their name, you'll be able to respond with completely different messages. Magic, we know.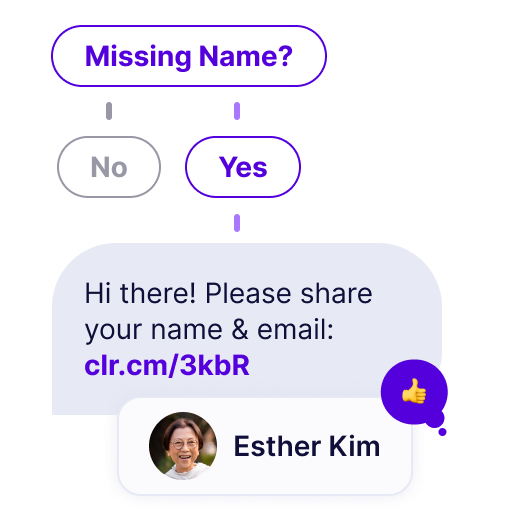 FAQ's
What if someone misspells a keyword?
If someone misspells your keyword, your workflow won't trigger. But, good news, keywords are not case-sensitive. And you can add aliases. For example, if you have the keyword GUEST, you can create the aliases GUESTS, GEST, GUST, etc. When someone texts an alias, your keyword still triggers.
Can I create keywords on both 5-digit and 10-digit numbers?
You can create unlimited keywords on both dedicated short codes and A2P 10DLC numbers. Every Clearstream account comes with an A2P 10DLC number, but for high-volume mass texting, you'll need to lease a dedicated short code. If you're interested in learning how Clearstream can set up and manage a short code for your church, go here. Clearstream doesn't charge setup or hosting fees like most providers.
Can I create Spanish keywords?
The short answer is yes. You can create Spanish keywords, but you can't include accented characters. That said, if someone texts your keyword, their accented text is automatically matched with your keyword. For example, if your keyword is CONEXION, anyone who texts in with CONEXIÓN will still enter your workflow.
Can I set up a QR code for my keyword?
When you create a new keyword, a unique QR code will automatically be generated.
How can someone opt out of your messages after they've texted in with a keyword?
When someone opts out, they'll show as an opt-out in your account, but they no longer receive texts from you. People can opt themselves out of your account or you can manually opt people out. If someone texts any of the keywords below, they'll be automatically unsubscribed from the Clearstream account which they've most recently received a message from:
STOP

END

QUIT

CANCEL

UNSUBSCRIBE
Can I duplicate a keyword workflow?
Yes! You can duplicate active or archived workflows.
Start Your Free 30-Day Trial
Killer customer support on every plan. No contract, setup fees, or pushy sales tactics.