A scalable texting platform and API for mega churches
Managing incoming & outgoing communication across multiple campuses with dozens of teams isn't trivial or simple. Clearstream is built to handle those complexities.
New plants to many of the largest and most influential churches in the U.S. rely on Clearstream as their texting service.
We're a product-focused team that's dedicated to building and perfecting reliable, intuitive communication software for the church.
And we've been doing it for over 12 years.
Customer Support
We consider customer support to be as important as the product we offer. All support channels are included with every plan — live chat, email, phone, and Zoom calls.

Our team is based in the U.S. and across two time zones. We provide support 7 days a week, year-round.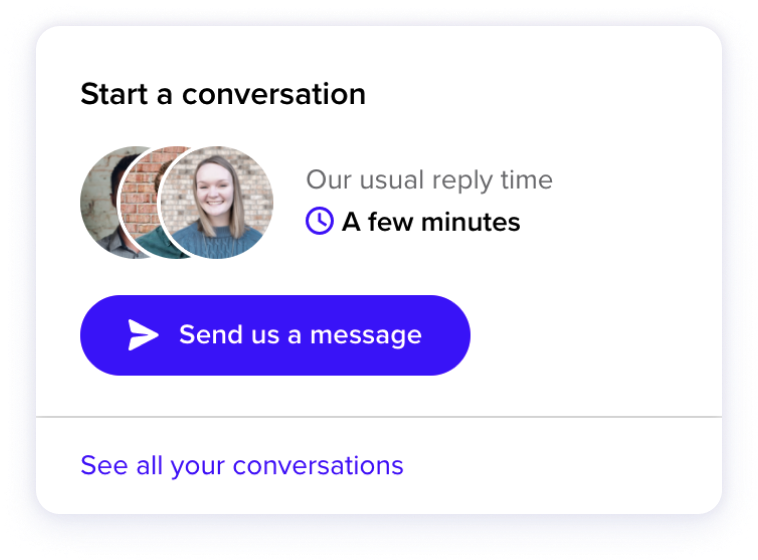 Dedicated Short Codes
A dedicated short code is a 5-digit number used solely by your organization. This is the single best option for high-message-throughput, reliable, non-carrier-filtered, emoji-enabled, multi-lingual-supported, two-way mass texting.
Clearstream is a Premiere Partner with the Short Code Registry, the organization that manages all short codes in the U.S.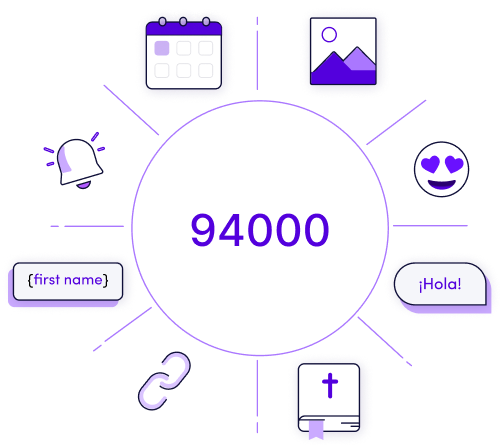 Customer Review
"Clearstream has connected us more closely to our congregation. We are able to use this one tool to communicate to all of our ministry teams for what they uniquely need to hear. The two-way communication made possible through Clearstream has increased the connection within our church. We are really grateful for this tool and how it can be maximized to help people grow."
Reliability and Message Delivery
Our short code throughput is 300 messages per second, meaning your message will be delivered very fast, even to 50k people. And yes, we can handle that load with ease. (For comparison, Twilio offers 100mps.)
If a message fails to deliver to any subscriber, we'll automatically reroute it through your A2P 10DLC number to ensure the highest delivery possible.
We're connected to all wireless carriers in the U.S. through a Tier 1 aggregator (we're not a basic texting app built on Twilio). Direct connectivity is critical for providing reliable messaging and troubleshooting with carriers.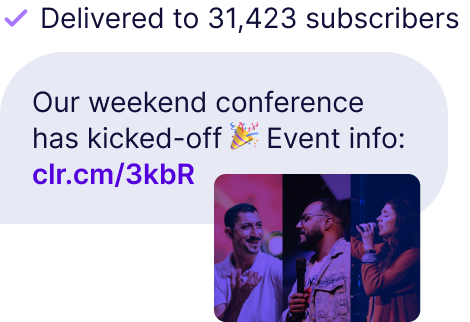 Carrier Compliance
Clearstream automatically handles wireless carrier, TCPA, and CTIA compliance with built-in opt-out/opt-in disclaimers, and STOP/HELP keywords.
Using built-in-house machine learning, we go a step beyond standard opt-out compliance by determining user intent. For example, if someone replies with a vague opt-out request such as "I've moved, so I don't need texts from you", we'll catch it and unsubscribe them for you.

Customer Review
"Clearstream has been an amazing tool for our staff to keep in contact with our congregation. The customer service has been fantastic too! If you're looking for an easy-to-use solution that integrates with tools that churches already use, Clearstream is a great option."
Multi-Campus Capability
Subaccounts let you easily divide ministries, teams, or campuses into separate accounts under your main umbrella account. 
Subaccounts have their own lists, integrations, keywords, local 10-digit number, and inbox. Limit credit usage and assign users for each subaccount.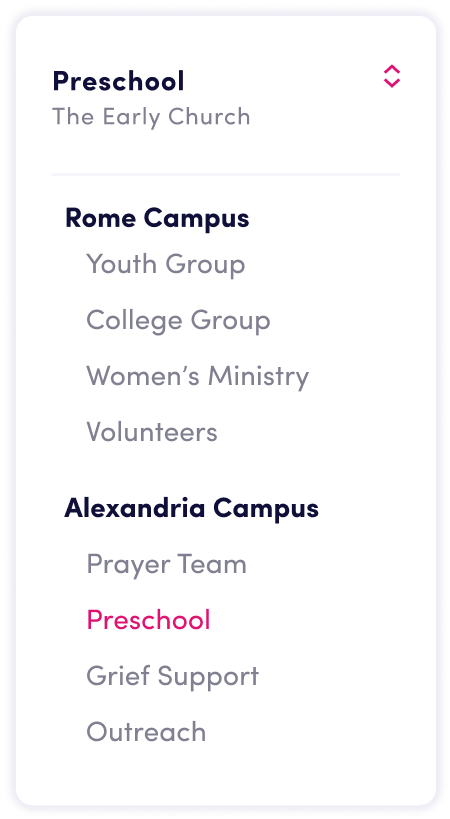 Automated Workflows with Conditional Branches
Create a series of messages that automatically send on a schedule. Set up conditional branches to trigger different messages based on user interaction and data.
Trigger a workflow based on a populated list or a text-to-join keyword. Or manually add people to a workflow at anytime.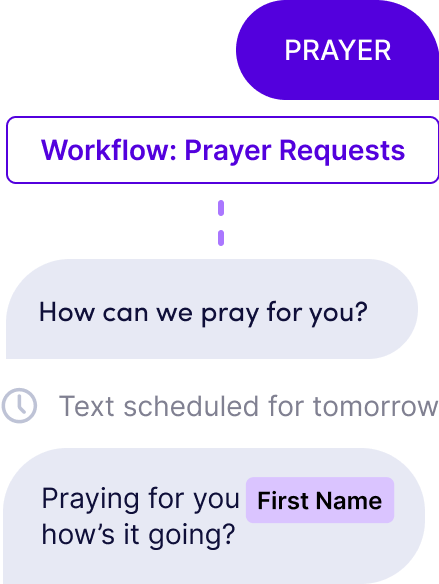 Customer Review
"Clearstream continues to be an excellent partner for Churchome. We connect with more than 10,000 people up and down the West Coast on a monthly basis via text while maintaining an opt-out rate of less than 1%. Their team solicits feedback, implements our suggestions, and clearly communicates best practices that translate into our success."
API
Most churches find our full-featured web-based platform to be sufficient. But if you need more, our REST API gives you all the power to build SMS into your own applications.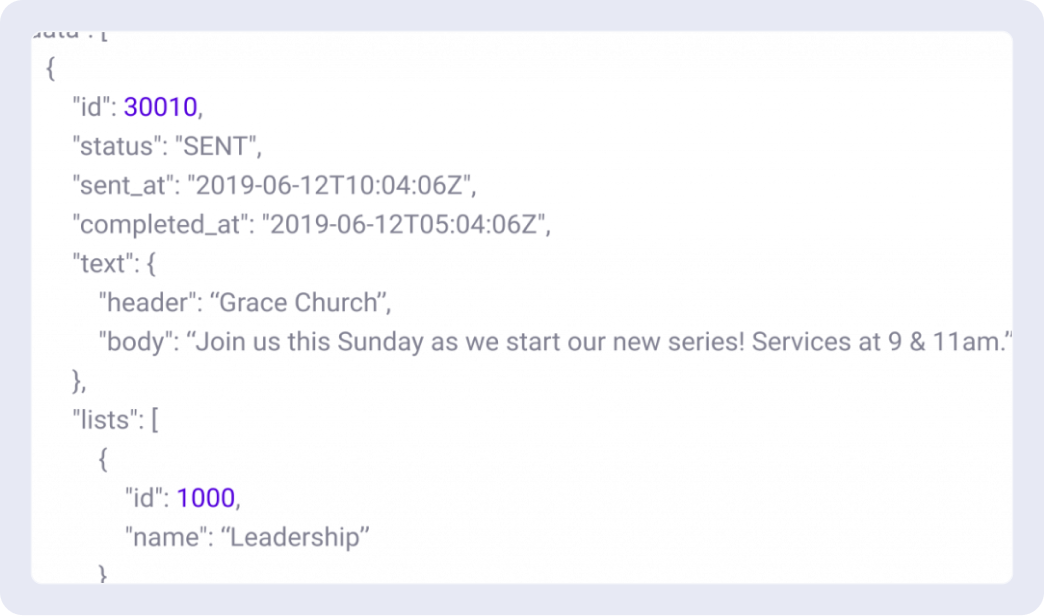 Metrics and Reporting
Live Metrics — See real-time metrics as your message is being sent. View how fast your message is sent, opt-outs, and incoming replies.

Transparent Metrics — We don't hide the not-so-pretty metrics, like message failures. See which people didn't receive your message.

Account Reports — Our weekly emailed reports show your account activity and growth from the previous week. You can also pull custom reports to see granular data for a specific date range.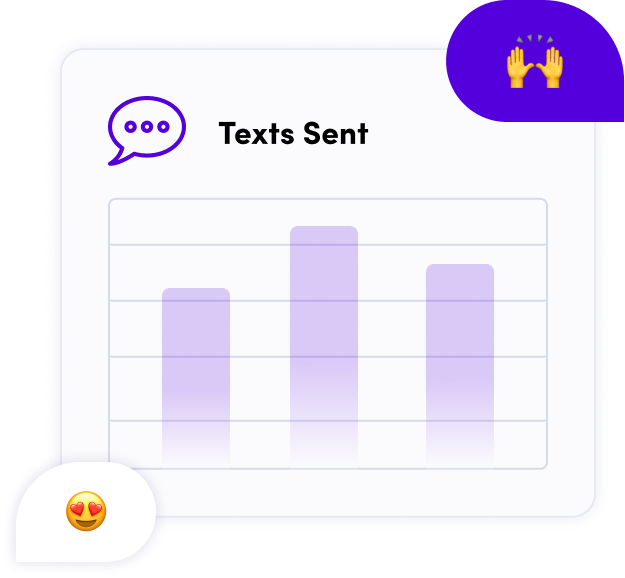 Compare Twilio to Clearstream
PDF
Download a comprehensive Twilio and Clearstream comparison
Start Your Free 30-Day Trial
Killer customer support on every plan. No contract, setup fees, or pushy sales tactics.