Video Texting
When written words don't say it all, include a video. Film a welcome for guests, an encouraging devotional, or weekly announcements from the pastor. Record your video within Clearstream, and if you don't like the first draft, record again without leaving the Messages page.
FAQ's
Should I record in Portrait or Landscape?
You can record in both aspect ratios, but remember - most people will be viewing videos on their phone, so portrait might be the way to go.
Can I reuse previous videos?
Yes! Every video you record and save will be in a Clearstream video library. You'll only have access to the videos you (as your own user) have created.
Can I download the video after I record?
Yes! You can download a video you have recorded by visiting Settings > Video Library. Find the video you want to download and use the action menu to Download your video.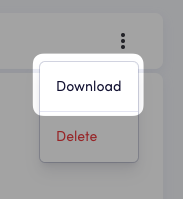 How will video send to subscribers?
Videos are sent as a custom link, but depending on the person's phone and whether they've saved your church info in their contacts (a great reason to use vCards), the video will either play right in their messages app or open in their web browser.
Can I track how many people have watched my video?
Not yet, but soon. We're launching video in a few phases, and that's on our roadmap for later…along with a few other surprises.
Can I customize my video thumbnail?
Not yet, but soon. We're launching video in a few phases, and that's on our roadmap for later…wait, this answer sounds familiar. For now, you'll have to trust our randomized process for picking the best thumbnail pictures. May the odds be ever in your favor.
Can I send videos in workflows, auto-responses, or inbox replies?
Yes and no. You can send videos in workflows, but not auto-responses or inbox replies yet. Stay tuned, though, because we're building out video in phases.
You can record up to 5 minutes. If you get the urge to go longer…don't. Thanks to Wistia, we know that the best engagement rates happen for videos between 60 seconds and 5 minutes. Let's stay in that sweet spot.
Start Your Free 30-Day Trial
Killer customer support on every plan. No contract, setup fees, or pushy sales tactics.