How to Use Texting for First-Time Guest Follow Up
Updated December 2022
A common challenge many churches face is getting first-time visitors plugged in. Even with a welcome team or a next steps area, a new family drops in one Sunday, never to be seen again. Sure, a connections pastor may have gotten info and uploaded it to your church management software. But often, this is as far as it gets.
Coming up with, and implementing some type of automated connection process is a daunting task. There's no magic bullet, but texting is one of the best tools you can use.
Texting has the highest open rates (open rate is 97%, email is only 25%), and it's the fastest way to connect. So if you're looking for some some strategy inspo, we've got a few ideas.
Use text-to-join keywords for guest follow up
A keyword is a word people text to your number to join a texting list and receive an auto-response (text JOIN to 97000). But Clearstream's keywords are multi-functional. You can build out workflow steps that trigger when the keyword is used. Schedule follow up texts to send at certain times and dates. Also send different texts based on a guest's behavior.
In the example below, we're sending two follow up texts based on when a keyword is used. Additionally, we have an alternate response set for people who already texted the keyword.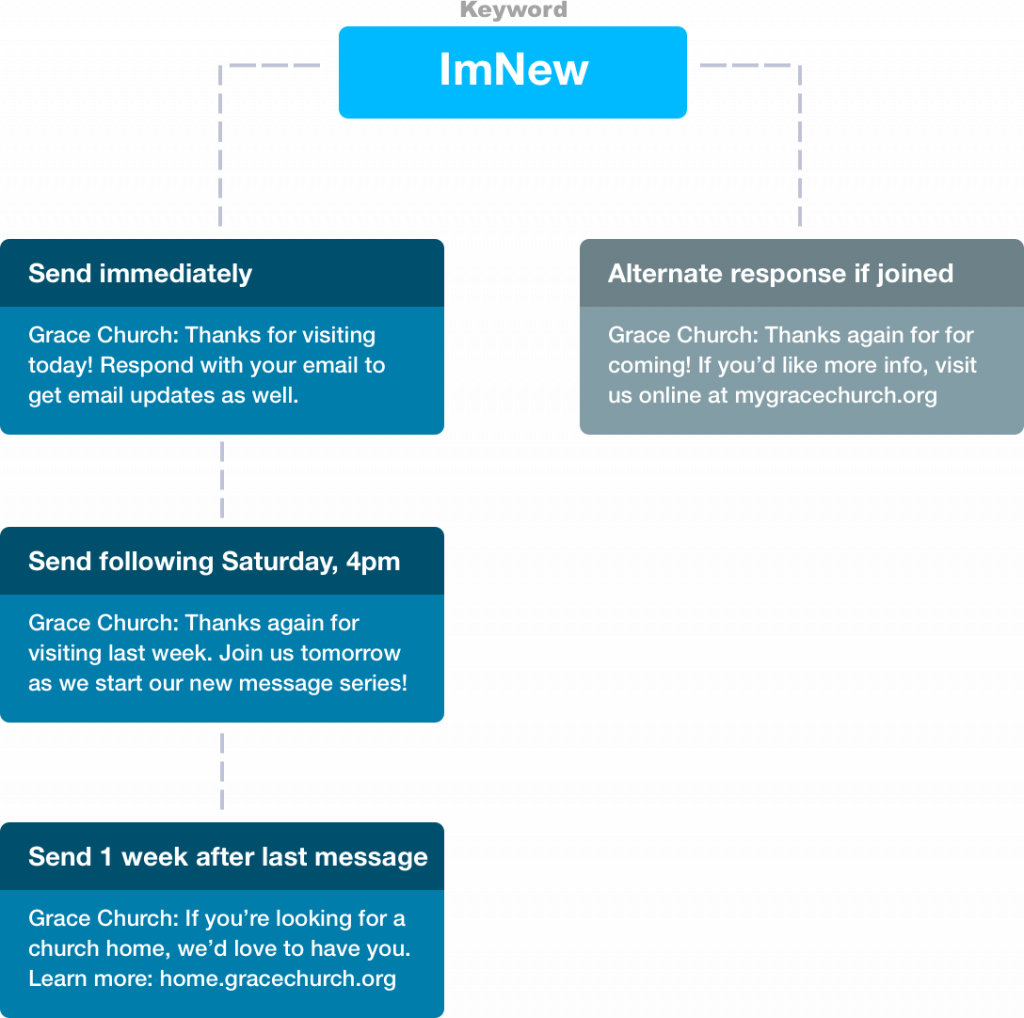 Collect guest information with a digital connect card
Within a workflow, you can collect data, sync it to Clearstream, and push it to your church management software. For example, Matthew texts the keyword NEW to your church number. He's sent an auto-reply with a digital connect card, fills out the information, and that information is immediately stored in your Clearstream account. It's also pushed to your ChMS database where new profile is created, and he is added to a workflow inside of your ChMS. Oh, and this all happens within seconds. Not quite magic, but pretty close. We sync with Planning Center, Rock RMS, and CCB/Pushpay.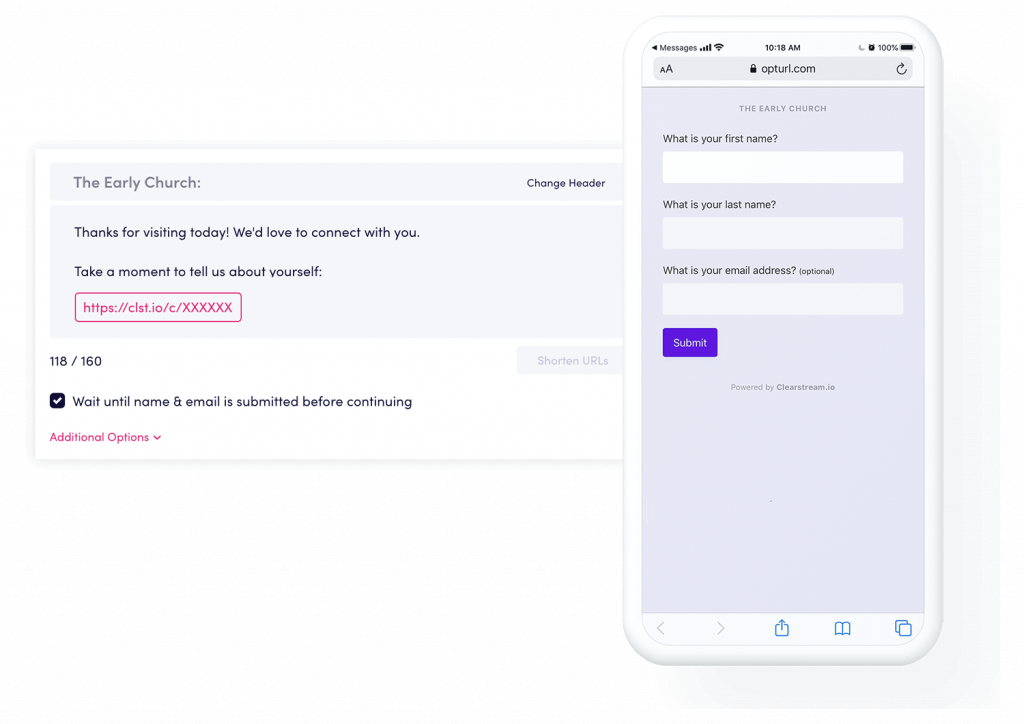 Other ways to engage guests with texting
Live Polling - Survey your guests by asking for first-impression feedback, or interest level in salvation/baptism/next steps. Have them text a poll keyword, or send the poll out in a text.
Text Menu - When a guest texts a keyword, auto-reply with a menu of options that include salvation, baptism, next steps, giving, more information, connect with a pastor, etc. Once they choose an option, auto-send specific information.
QR Codes - QR codes are a great visual tool. Post them on digital slides, directional signs, banners, bulletins, backs of seats, and welcome desks. When a guest scans the QR code, they'll automatically trigger a keyword workflow.
Signup Forms - A signup form makes it possible for guests to join your texting lists from your website. Tie a signup form to a "Plan Your Visit" landing page, and let guests choose which areas they want more information on. An auto-reply will send as soon as they sign-up!
How to start building a guest follow up process
Like a cup of coffee, a good follow up workflow can be brewed multiple ways. The most important thing is figuring out where you want guests to end up. If you rely heavily on a ChMS, push guest info there. If you prioritize a Next Steps class, include registration info in the first auto-response you send. Do you have designated staff who meet guests for lunch? Get guest info to an outreach subaccount that's managed and monitored by staff.
To get started, here's a walkthrough of how to create a basic follow up workflow:
Login to Clearstream → Hit Keywords on the left side dashboard → Click Create Keyword.

Type a word in the Choose a Keyword box. If a it's available, the box will turn green.

Select a list you want a person to be added to when they text the keyword.

Click Add Step to create the first auto-response message → Select Collect Data (by selecting the Collect Data option, a clickable link will automatically be added in the text. This link leads to the digital connect card).

Type your welcome message: "Hi there! We're glad to have you join us. Please fill out a connect card.."

If you're synced with Planning Center, Rock RMS, or CCB, click Add Step → Click Push to (Planning Center, Rock RMS, CCB).

Click Add Step → Click Send Text to add a second message for guests to receive after they fill out the form: "Thanks for the info! Hope to see you tomorrow!"

You can add more auto-response messages to follow up with guests the following Saturday: (a. Select the Send on a specific day of the week box. (b. Select Saturday from the dropdown menu. (c. Select the Send at a specific time box and pick the time you want your message to be sent.

Click Create Keyword.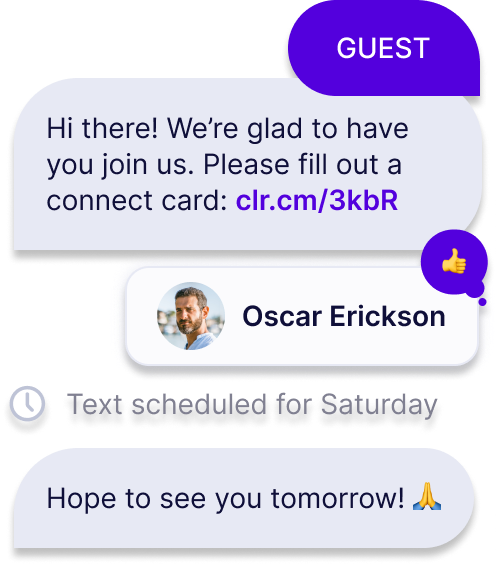 If you have any questions about your specific guest workflow, chat with our team here.
We'd love to help!