Send Menu
A send menu lets people text a keyword or enter a workflow and receive back a list of options to choose from. Once they respond, they're guided down a specific path based on their choice. Each path allows you to send follow-up texts, add people to different lists, and transfer people to other workflows or subaccounts.
Have one keyword for all campuses
Use one keyword for all your church campuses, and let people choose which campus they're attending. Once they choose their campus, auto-route them to that campus-specific subaccount. Even auto-reply with campus-specific information.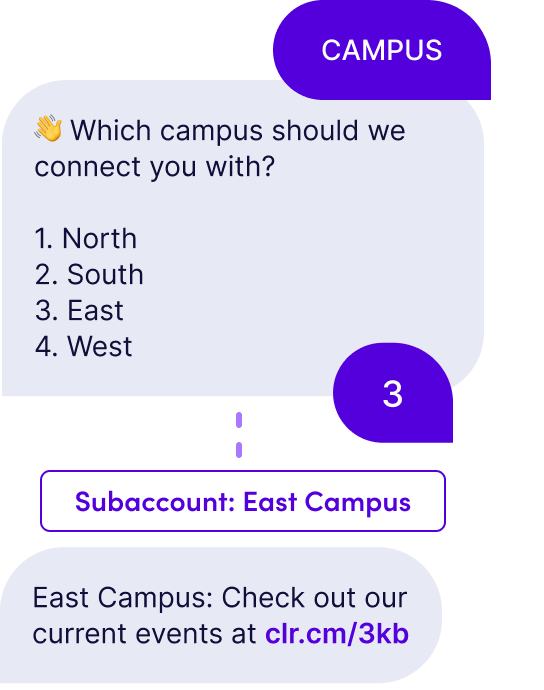 Let visitors choose next steps
Invite first-time guests to text your keyword and choose the information that makes the most sense for them: more info, baptisms, next step class, prayer, etc. Auto-add guests to a visitors list in Clearstream and send follow-up texts over the next few days and weeks.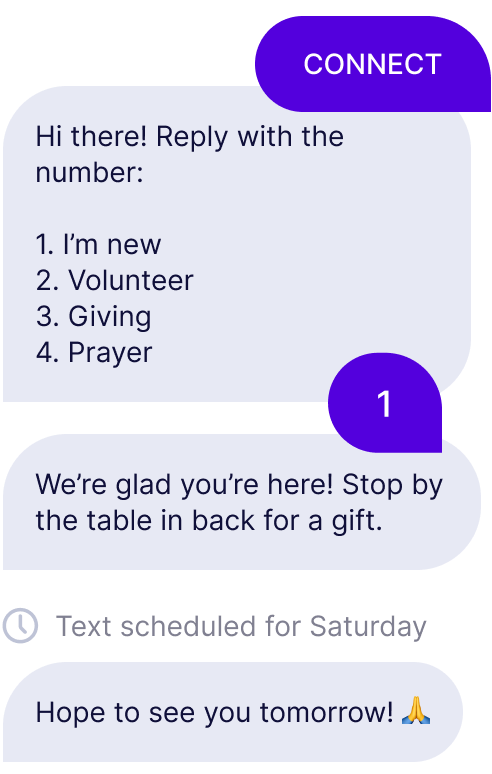 Promote volunteer opportunities
Have a standing way for people to choose where they want to serve and create auto-responses that send information accordingly. For example, if a volunteer selects "youth ministry," add them to a youth volunteers texting list and send an auto-response with next steps for becoming a youth leader.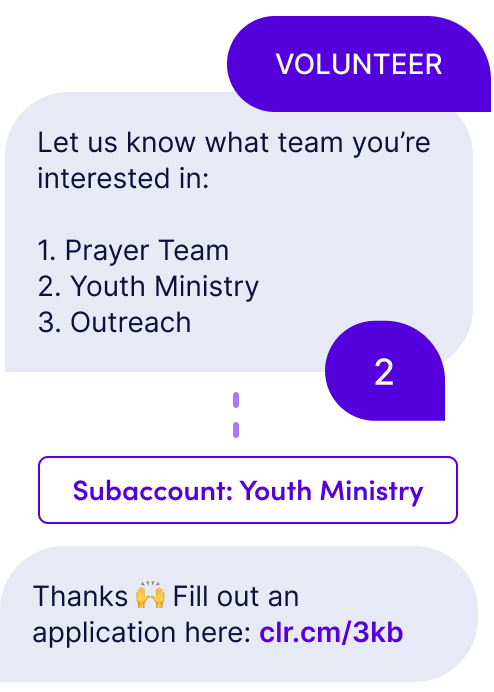 Use menus during events
This is going to look substantially different for each church, but here are a few ideas: provide location options for an Easter egg hunt, have volunteers sign up for an outreach event, let people register for a Christmas Eve service, or ask families what age-range of childcare they need for the next worship night.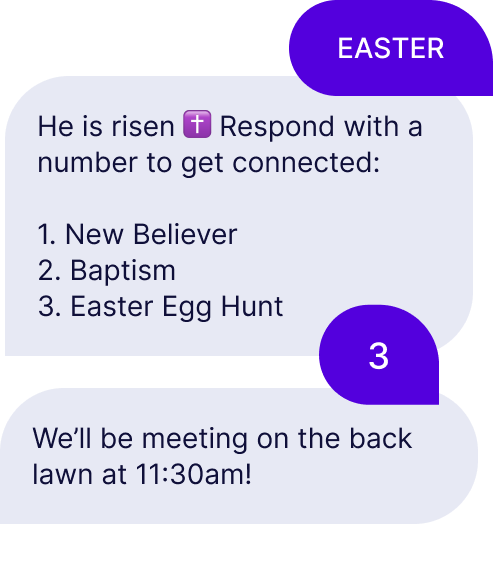 FAQ's
Can I change my menu options?
Yes, you can change your menu options without changing your keyword or your workflow set up. For example, add another menu option near Christmas about service times.
How many options can I have in a send menu?
You can create as many menu options as your character count allows (up to 765 characters).
What if someone wants to choose two options?
If your send menu is tied to a keyword, it's possible for someone to text the keyword again and choose a new option. If your send menu is within an automated workflow, they can only make one selection.
What's the difference between a branch and a send menu?
Branches are conditions set within your workflow by you, unknowing to anyone who joins. A send menu allows your people to choose their own path based on their selections. 
Start Your Free 14-Day Trial
Killer customer support on every plan. No contract, setup fees, or pushy sales tactics.