New Feature: Subaccounts
Michael Lepinay
COO / Co-founder
We wanted to introduce a major new feature in Clearstream: subaccounts. If you have ministries that are large enough to need their own account, or if your church has multiple locations, subaccounts are a great option. You can create separate accounts under your main (we'll call it master) account, but still have one monthly plan with Clearstream. New subaccounts can be created within a few seconds right from your master account.
Subaccounts let you create multiple accounts under your main account. Each subaccount is its own account with separate lists, keywords, inbox, users, long codes, and integrations.
Skip to video walkthrough below
Manage separate ministries or campuses from one umbrella account
We've been seeing a recurring issue with churches using Clearstream over the past couple years: a lot of users (ministry leaders, pastors, staff) are running different ministries, but using one account to manage everything. That created a lot of unnecessary frustration for some of our customers.
Part of the solution was to enable user roles: Owner, Admin, or just Editor. This helped limit what users can do in each account they have access to. But this wasn't the long-term solution we knew was needed. Even if users have limited roles, there's still only one inbox all incoming messages go into, which creates the biggest problem when running multiple large ministries under one Cleastream account.
Subaccounts solve all of that. No more shared inboxes and keywords, or using one long code for every ministry in your church. Now each ministry or campus can have it's own account, under your master account.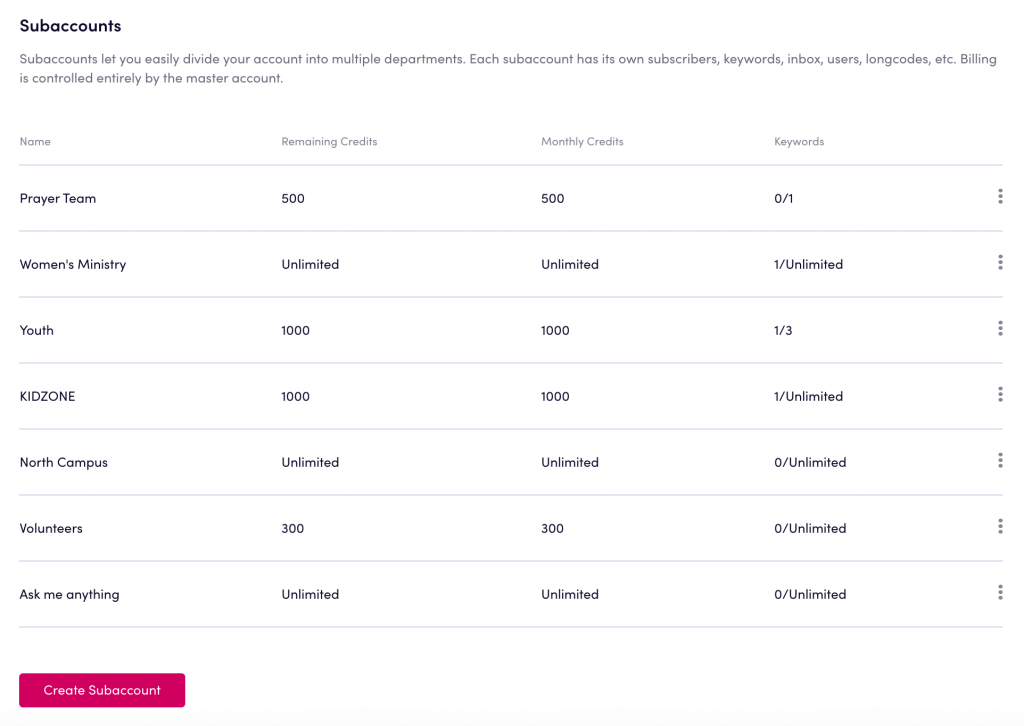 Specify message credit and keyword limits for each subaccount
When you create a new subaccount, you can give that account unlimited or a set number of message credits and keywords per month. This pulls from your master account's monthly plan. No more multiple monthly plans, multiple billing, etc. One monthly plan tied to your master account. That's it.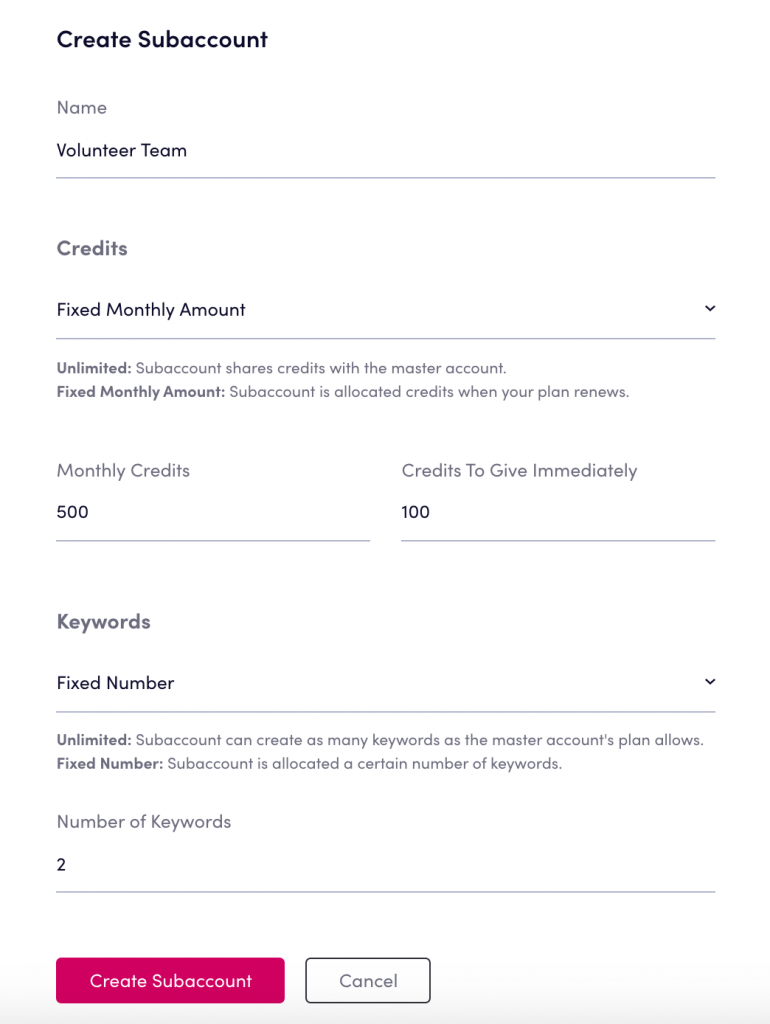 Quickly switch between accounts
We wanted to make switching between accounts as seamless as possible (think switching between Google accounts, but faster). No logging into an account, logging out, and logging into a different account. Just toggle between accounts in the Account Settings dropdown.
Accounts can have up to 25 users (if you need more, let us know. But you probably won't b/c 25 people is a lot of hands in one kitchen). And if a user has access to multiple accounts, they can switch between accounts. No more logging in and out from multiple accounts!

How many subaccounts come with each plan
| | |
| --- | --- |
| Plan | # of Subaccounts |
| Forever Free Plan | 0 |
| Church Plant ($29/mo) | 1 |
| Small Church ($49/mo) | 2 |
| Medium Church ($99/mo) | 4 |
| Large Church ($199/mo) | 8 |
Video Walkthrough