Email Beta, vCards, Central User Management, and much more
It's a new month, and we have a lot to share! If you read December's product update, we mentioned having several updates on the horizon, and we weren't exaggerating - there are nearly a dozen. But one of them is particularly 📧xciting.
Email is here...ish!
Over the years, customers have regularly requested the ability to email in Clearstream. With those requests piling up and email provider costs increasing (we see you, cute little monkey mascot 🐵), we decided to build email into Clearstream. Email is in beta currently, so not fully-baked yet. In the beta stage, you'll be able to send custom-designed emails from the Messages page. Over the coming months, we'll be building email into workflows and adding more metrics that any good email software should have. 
If you'd like to test out this beta version of email, click the button below to have it enabled on your account. Please give us a few days to work through the requests, as we're enabling email beta on a per-account basis. We'd love to get your feedback while email is in beta! 
What will email cost? - There will be no additional cost. It will be part of your plan unless you send insane amounts of emails, in which you'll have the option to purchase extra email credits, just like text credits. But the number of email credits will be substantially more than the number of text credits in your monthly plan.
Central User Management
If you manage lots of users among many subaccounts, this feature is for you. We both know that inviting, managing, and removing users in subaccounts was a painful process - you had to go to each account they were in and handle it there. Ugh. Thankfully, that's no longer the case. Invite and manage all account and subaccount users from one place. Whether you're sending new invites, removing users from multiple accounts, or editing permissions, it can all be done quickly and easily within the same account. Try it out, and let us know what you think.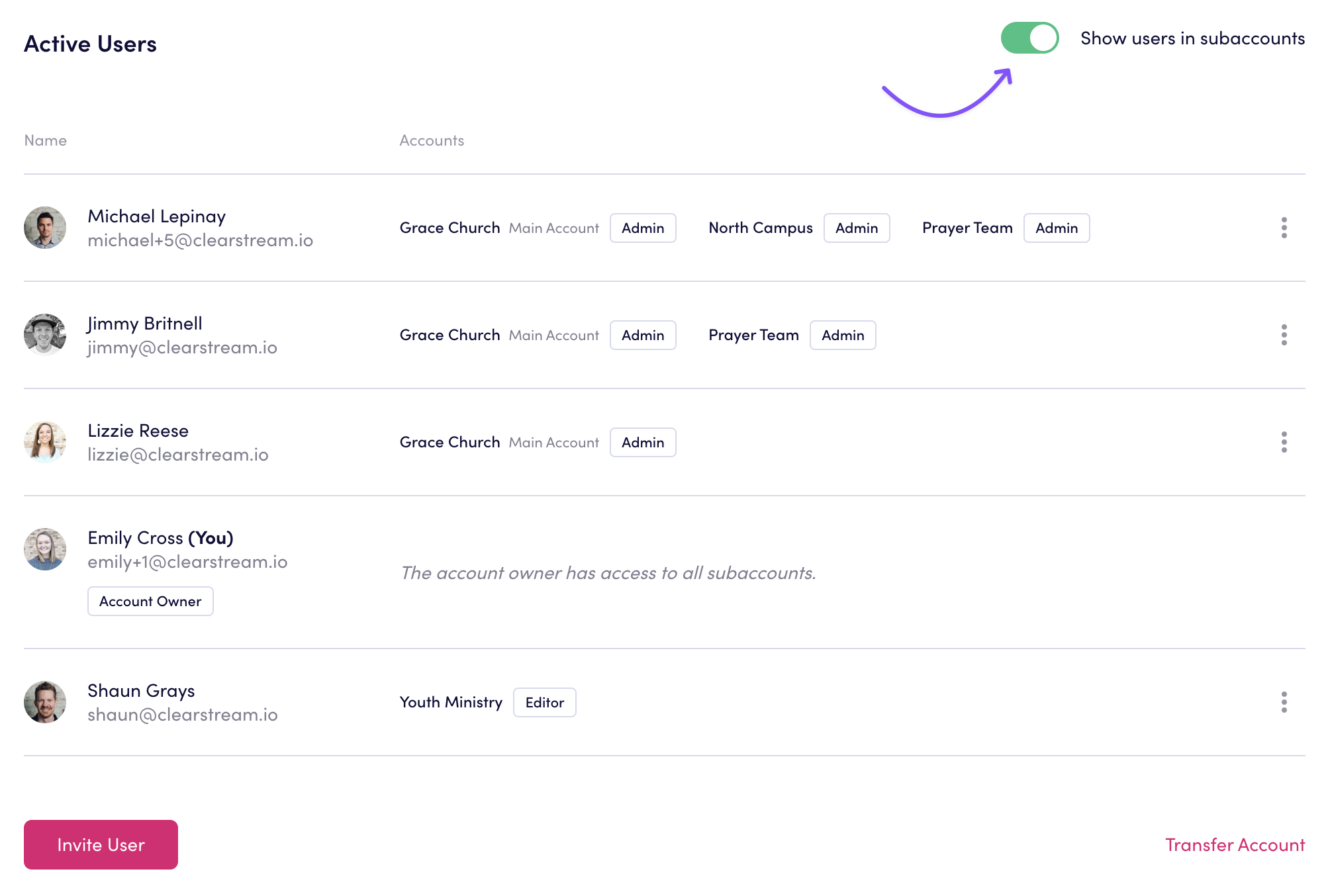 Send your church contact info as a vCard
A vCard is a virtual contact card that has all of your church info prefilled (phone number, email address, physical address, photo, etc). Now you can attach a vCard to your text. This is a great way to share your church's info, and allow your members to easily save it to their phones.
If you don't already have a vCard for your church, there are a lot of third-party apps you can use to create one.
New activity tables for keywords and workflows
Activity tables give you quick access to specific data and texting interactions. We released the Message Activity Table a few weeks ago, and now we have one for keywords and workflows as well.
Keyword Activity Table - Shows all subscribers who have interacted with a specific keyword. Really helpful to see exactly where people are at in your keyword workflow and which messages they've received. Use the search bar at the top to view this data for a specific person.

Workflow Activity Table - Shows detailed data for all workflow messages and gives general insight into how your workflow is performing. If you use automated workflows for things like first-time guest follow-up, prayer campaigns, or volunteer onboarding, you can use this to see which messages each person has received.
New 'wait' step and design updates
New 'wait' step - You may have already noticed, but there's a new wait step for delaying workflow texts, and you can see how many people are waiting at each step. This is particularly helpful for workflows that last several days or weeks. For example, you can see where a new visitor is in your first-time guest workflow.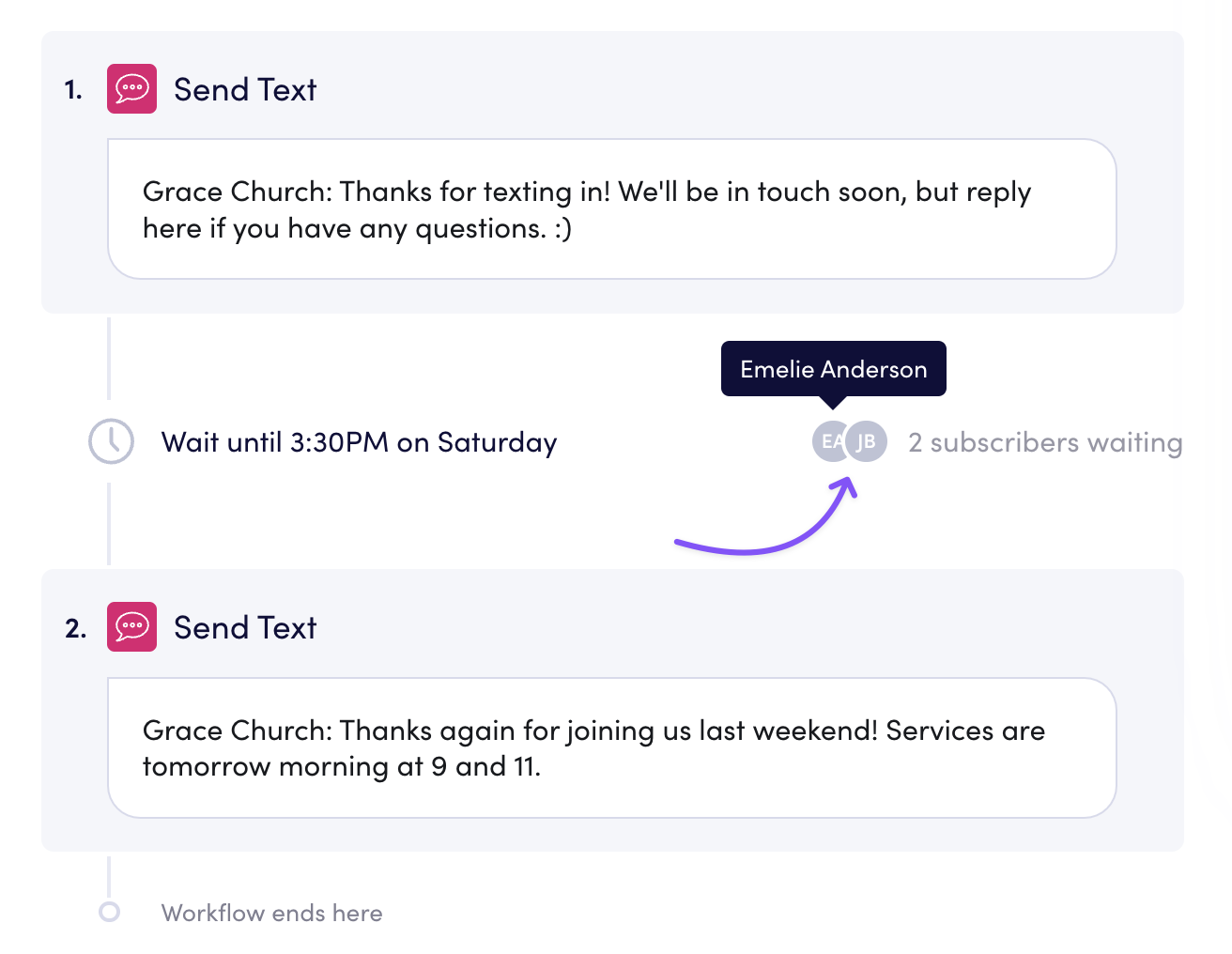 Message Details design - For all texts sent from the messages page, you can see some helpful data after the message sends. The information didn't change, but it did get a nice facelift from our design team.

Edit subscriber modal - You've always been able to edit a subscriber's name, email, and which lists they're in, but we've updated the editing modal to make it a little more clear. Also, notice anything new that's tagged along in this screenshot? 😉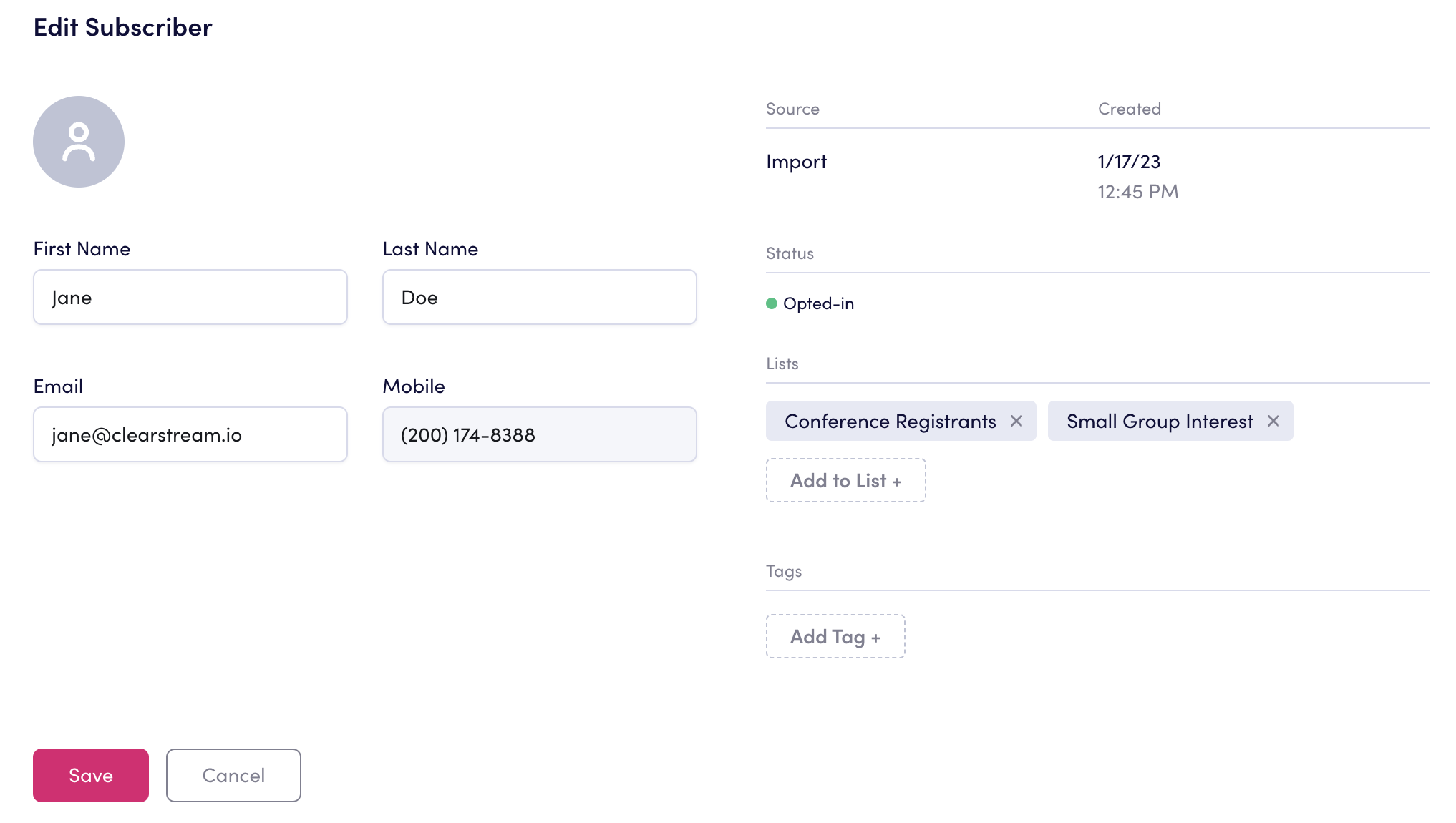 Auto-remove landlines and invalid numbers
Previously, if you texted a list that included landlines or invalid numbers, they would just show as failed recipients. Now, we'll automatically opt-out landlines and invalid mobile numbers to keep your lists clean and up to date.
Instantly import CSV/Excel files
When importing a new list of phone numbers, there used to be a waiting period before the numbers were added. Now, nearly all imports will be instantly approved, making this process much simpler and faster for you.
That's all for now 👋
Stay tuned for more exciting updates. If there's anything we can help you with, drop a message in chat any time.