New Feature: Sync to Planning Center
Michael Lepinay
COO / Co-founder
It just so happens that a lot of our customers use Planning Center as their church management software. That's probably because we make it almost laughably easy to send texts to your People Lists in Planning Center. Up until now, it's been a one-way integration: automatically syncing your Planning Center People lists into your Clearstream account. Now, not only can you integrate your Planning Center lists into Clearstream, but you can also automatically push your subscribers data from Clearstream into the Planning Center People app, and optionally into a Planning Center Workflow. Two-way syncing for the win! No more manually moving subscribers (ie - 1st-time visitors who text in) from Clearstream to Planning Center.
Example scenario:
New visitors text in to your 1st-time guest keyword.

Your keyword workflow is set to collect the guest's information (which can also sync with Mailchimp if you get their email address) through text.

Push to Planning Center step in Clearstream is enabled.

New guests receive a series of automated text messages from your Clearstream account, a new person is added to Planning Center People, and optionally, they are also added to your 1st-time guest workflow (or any workflow you choose) in Planning Center.
How It Works
Quick setup: Login to your Clearstream account > Create Keyword > Add Step > Push to Planning Center.
When creating or editing a keyword, you will see a new option: "Push to Planning Center." Select this option to automatically push new keyword opt-ins to Planning Center People. You also have the option to add people to a Planning Center Workflow.
Video Walkthrough
Add to Planning Center Workflow
Adding your new Clearstream subscribers to one of your Planning Center Workflows is easy. Let's say you've created a Volunteers Workflow in Planning Center for all of your new volunteers. Create a keyword and select the workflow you want them added to. Once you've created it, just have your volunteers text in using the keyword and we'll collect their data, create a Person, and add them to your Planning Center Workflow.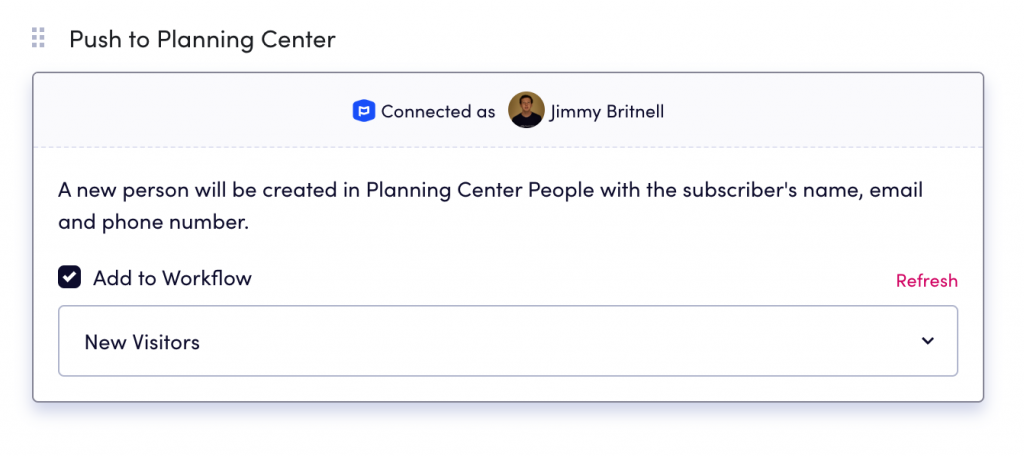 Helpful things to know
In order for a new Person to be added to Planning Center People, we're required to have a first and last name tied to the phone number. When you add the push to Planning Center step, if it hasn't already been added, we will automatically add the Collect Data step to your workflow. This will ensure that we obtain your subscriber's name, allowing us to create a new Person in Planning Center.

Once a subscriber has a corresponding Person in Planning Center, we won't create another one. If your subscriber texts in using your keyword more than once we will see that the number already exists in Planning Center and accordingly won't add them a second time. This will prevent duplicates from being created in your Planning Center account.

Planning Center allows you to add a Person to a Workflow more than once. Therefore, we don't prevent that. If a keyword has the "Add to Workflow" option enabled, and someone texts in twice, they will be added to the workflow twice.
Not using Clearstream? No contract. No setup fees. Upgrade, downgrade or cancel anytime.