New Feature: Slack Integration
Michael Lepinay
COO / Co-founder
*Updated April 2022
Slack is one of the most popular web apps for team communication. Here at Clearstream our team uses and relies on Slack every day. After hearing that so many of our customers use it, we thought 'why not let our customers manage their Clearstream Inbox directly in Slack?'  Hence this powerful (we tend to overuse this word, but a sufficiently better adjective to describe this new feature could not be found in the English dictionary) new integration. If your church uses Slack for internal team communication, do read on...
Clearstream's Slack integration lets you receive, view, and respond to your Clearstream Inbox messages from within your Slack account.
How to set up Clearstream Slack integrations
Quick Setup: Integrations > Slack > Authorize Clearstream to access your Slack account > Choose which Slack channel to send Clearstream inbox messages to.
When you initially set up your Slack integration, this Slack channel will be notified any time a new message is received in your Clearstream Inbox. You can then respond to the incoming Clearstream message without having to leave Slack. Note - you can set up a separate Slack integration for each subaccount.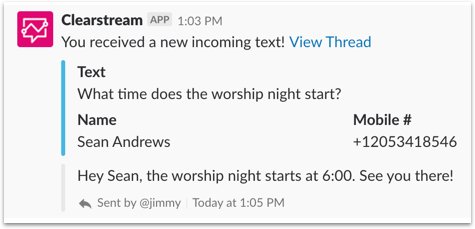 Threading
When there are several people texting in and multiple people responding to messages, your Slack channel can feel very busy. Threading helps you easily organize these texts. For example: someone texts and asks, "What time is the meeting?". You reply "6pm". Later they reply with "Thanks!". All of this will happen in the same thread.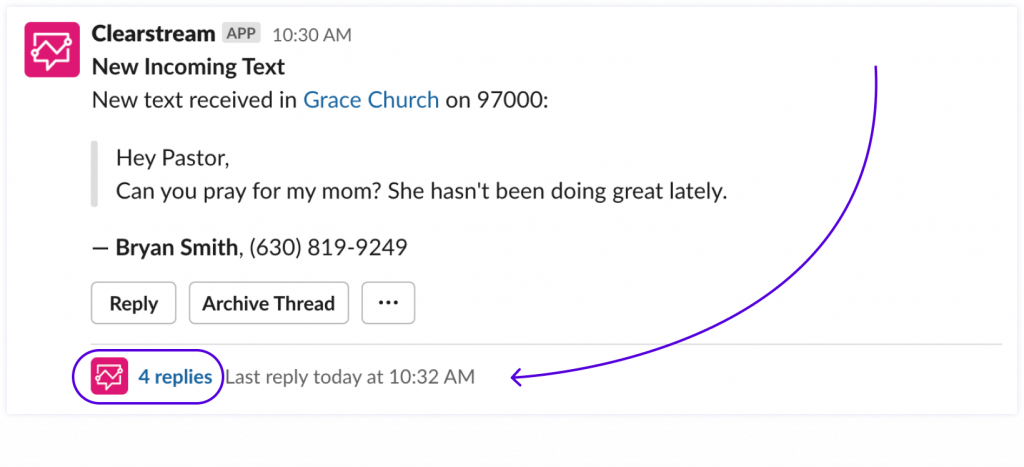 This lets you see the context of each incoming message and keeps your channel organized.
How to use the Slack-Clearstream integration
Texting is a great way to get prayer requests from your church members. There are two ways:
Create a dedicated 10-digit number, also known as a long code, for members to text their prayer requests during the week. All prayer requests will then go into your Inbox and your Slack channel. All team members with access to your Clearstream account will be notified immediately, and can reply from the Inbox or the Slack channel. Note: Both Clearstream and Slack have mobile apps to make this even easier on the go!

Send weekly text blasts to your members, asking them if there's anything they need prayer for. Many churches that use Clearstream do this on a weekly basis, typically on Wednesdays. This is an easier way to get prayer requests compared to email, website forms, or Sunday morning connect cards. Similar to #1 above, all incoming messages are sent to your Inbox, and your team members will be notified with each new incoming prayer request. They can then respond to each one from Clearstream or Slack.
If you've set up a subaccount specifically for your prayer team, you can give prayer team members in your church access to only that Clearstream account. All incoming prayer requests will go directly into their Clearstream inbox and no other account. If they've synced Clearstream and Slack, they will receive all prayer requests in their Slack channel and can respond to each message from within Slack.