Texting at Easter
Lizzie Reese
Customer Success
What can we do to really make guests feel welcomed this year?
Which song will make the strongest first impression?
How can I write a sermon that will impact everyone who walks through the door?
We won't pretend to know the answers to all the questions facing pastors and church leaders in the weeks leading up to Easter, but we'd love to help where we can. Our focus here is utilizing resources you already have with Clearstream: polls and keyword workflows. We've laid out exactly how you can use these, taking the guesswork out of the equation.
Engage with a Poll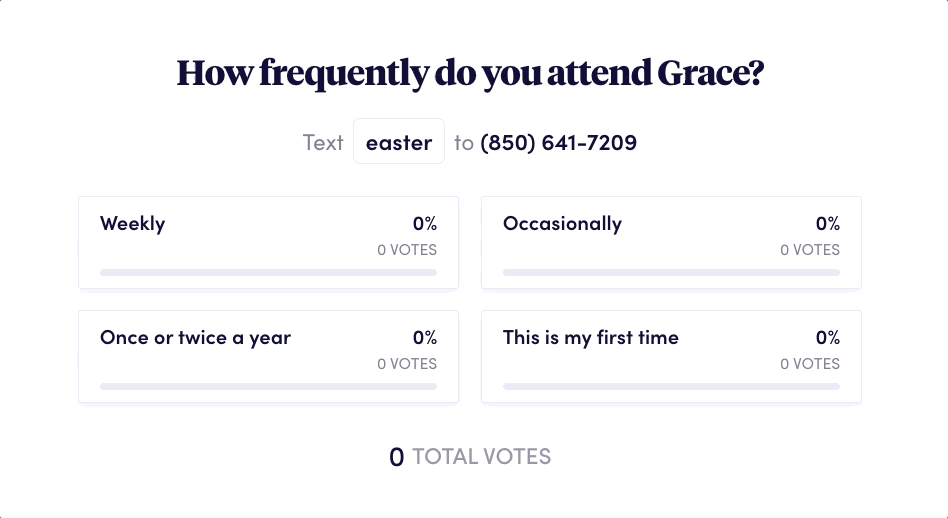 Actively involve your church by creating a poll. A simple question can encourage connection during the sermon, and conversation afterwards. You can put your poll up on the screen as people walk into service, encourage everyone to text in during your sermon, or ask the congregation to provide feedback on their way out. Check out the example below.
When creating your Easter poll, consider what broad and relatable questions can help your greeters get the conversation going. The question itself doesn't have to bring about deep theological discussion, though the debate over sour vs sweet candy can get spicy. You might even present the poll to reveal results during the service. Or, have your congregation "vote" during the sermon and watch together in real time as the results roll in.
A few poll ideas:
How frequently do you attend [your church name]?

Who do you resonate with in the Easter story?

How are you celebrating Easter this year?
Connect with keywords
Create a QR code and add it to your bulletin & signage. Your guests (and members) can scan the code with their phones to quickly text a keyword and receive the info they're looking for.
Simple Easter Workflow
Keywords can be as simple or complex as you'd like- and both ways can be very effective for reaching your church. We've created a couple keyword workflows to show how they work. Check out the videos below to learn what you can do!
On Easter morning, there will likely be more visitors than you have on a typical Sunday, and it can be challenging to personally meet each of your guests. Make it easy for them to get connected by providing a digital connect card to gather their information. Guests simply text in a keyword and fill out the brief form. Then, you have the info you need to follow up with them.
Once they've filled out the form, it's always a great idea to thank your guests for coming, and let them know what they can expect next! Will someone follow up this week? Should they expect a call from a pastor? Is this the best place to submit prayer requests? Let them know with a follow-up text.
Advanced Easter Workflow
When there are events happening at your church, ways to get in community, and other things you want your congregation to know about, it can be a challenge to share all the details efficiently. Using a Send Menu, you can give a single call-to-action for all information. Guests or members, virtual or in-person, everyone can text in the same keyword. When they text in, they'll receive a text back with options to choose from.
Beneath each option, create a unique set of texts and steps for those who select that choice.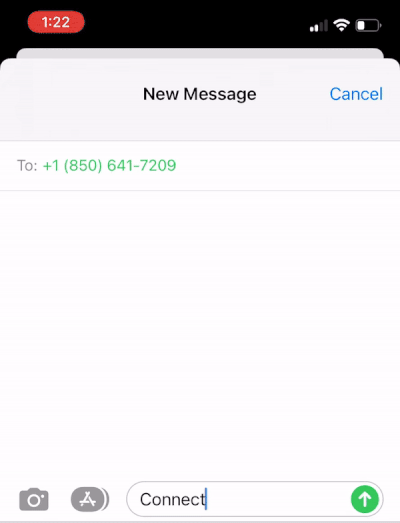 First-time visitors - Send a digital connect card, and let them know you're here to answer any questions they have.

Someone just accepted Christ - Set a text to automatically send, letting them know a pastor will be in contact this week to connect with them!

Members are ready to join a small group - Respond with a link so they can sign up.

New Volunteers - Thank them for their willingness to serve, and connect them with the ministry they're most interested in.
Let us help you!
We hope you feel at least a little more prepared or excited for Easter. If you'd like to hear more ideas, or have questions about implementing these, reach out to our team.
We hope you have a joyful Resurrection Sunday!