Automated Keyword Workflows for Guest Follow-Up
Michael Lepinay
COO / Co-founder
What are automated keyword workflows?
Messaging sequences that are triggered when a user texts a specific keyword inside of your account. For example, first-time guests can text "ImNew" to 97000 to fill out a digital connect card. Then they will receive several messages throughout the week inviting them back the following Sunday.
A common challenge most churches face is struggling to get first-time visitors plugged in. A new family drops in one Sunday, never to be seen again. Sure, you may have gotten their info and uploaded it to your church management software. Often, this is as far as it gets. Maybe they were just window shopping, or maybe they were really looking for a church home, and considering your church. So, how can you make it easier for them to come back, while not adding yet another weekly 'to-do' to one of your staff?
How do keyword workflows work?
Keyword workflows build on this basic keyword functionality. You can trigger additional follow-up messages based on certain criteria or behavior. You can schedule these messages to send at certain times, dates, and you can also have different responses for people who've never texted in before and people who have.
In the example below, we're sending two follow-up messages based on when they texted the keyword. Additionally, we have an alternate auto-response set up for subscribers who have already texted the keyword: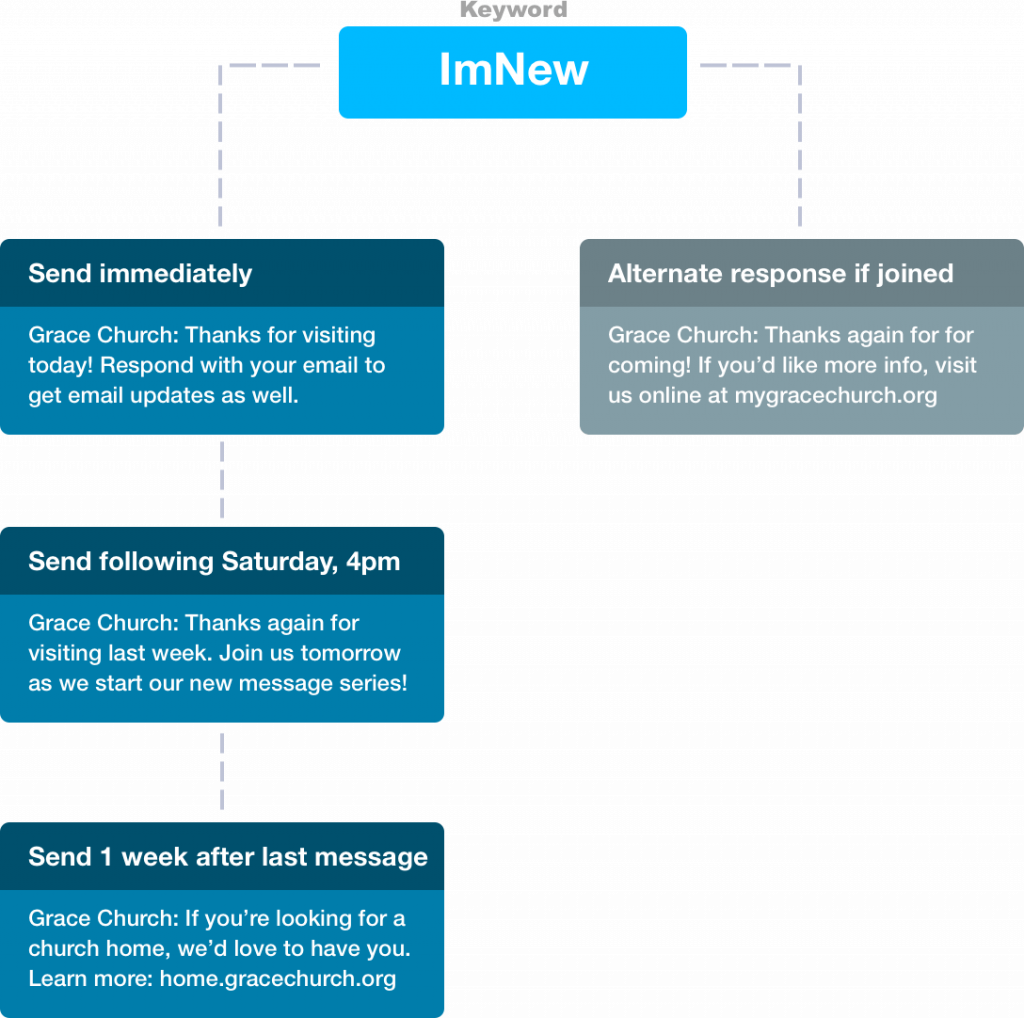 Collect guest information with a digital connect card
You can collect data from first-time guests and sync it to their profile in Clearstream. When using the "Collect Data" step, a URL will be automatically added to your auto-response message. When a first-time guest clicks on the URL, they will be taken to a page where they can fill out their first/last name, and email address.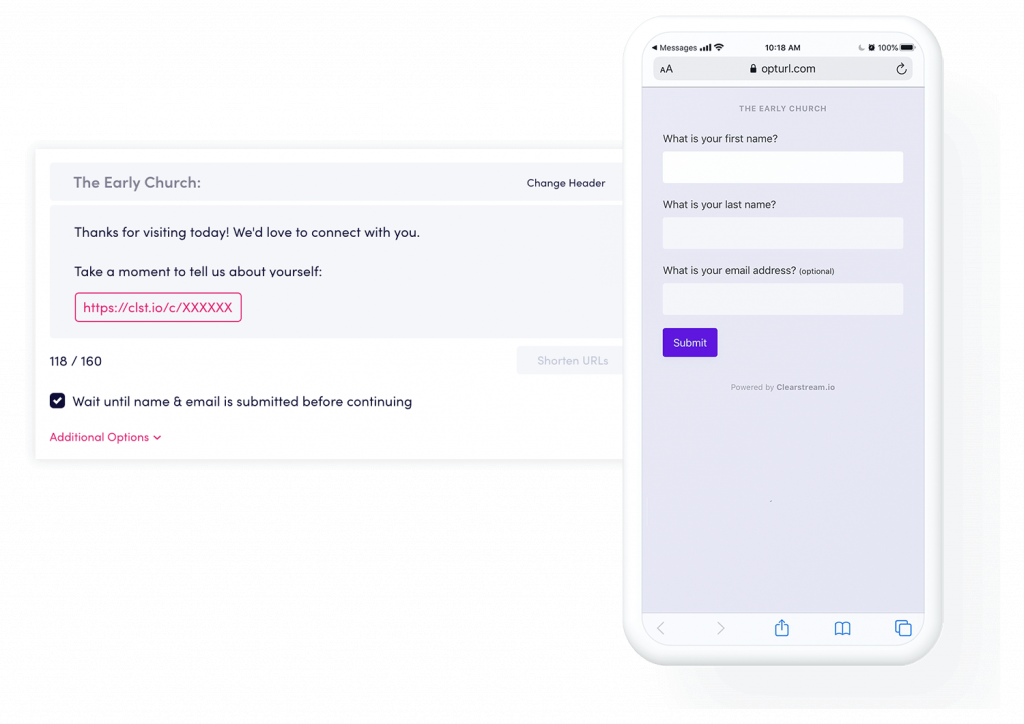 Sync first-time guest information into Planning Center
If you use Planning Center, you can set up your keyword workflow to send the info gathered in the "Collect Data" step straight into Planning Center to automatically create new People in your Planning Center account and add them to one of your Planning Center Workflows. No manually transferring data from paper connect cards to your Planning Center account.
Sync first-time guest information into Mailchimp
If you're connecting with people through texting, you'll likely want them to receive your church emails as well. If your church uses Mailchimp for sending emails, you can automatically sync any collected email addresses into your Mailchimp list.
How to set up a text-to-join automated keyword workflow for first-time guests
You can follow this step-by-step process or click here to watch a video walkthrough on how to set up a text to join automated keyword workflow.
Login to your Clearstream account, click Keywords on the left side of the dashboard, and then click Create Keyword.

Type a unique keyword in the Choose a Keyword box. If your keyword is available the box will turn green.

Select a list you want your subscriber to be added to when they text into the keyword.

Click Add Step to create the first auto-response message and select Collect Data (By selecting the Collect Data option we will automatically add a clickable link in the text message for them to fill out the Digital Connect Card).

Type out your welcome message: "Thanks for joining us! Please tell us about yourself...".

If you're synced with Planning Center, click Add Step then click Push to Planning Center.

If you have not synced with Planning Center you can automatically learn how to add first-time guests as a new Person in one of your People lists in this post.

Click Add Step then click Send Auto Response to add a second message for first-time guests to receive after they fill out the form: "Thanks for the info! Please stop by our welcome center in the back. We'd love to connect with you."

You can add more auto-response messages to follow-up with first-time guests the following Saturday: (a. Select the Send on a specific day of the week dialog box. (b. Select Saturday from the dropdown menu. (c. Select the Send at a specific time dialog box and pick the time you want your message to be sent.

Click Create Keyword.
How to set up an automated keyword workflow to follow-up with first-time guests
Additional Resources
Not using Clearstream? No contract. No setup fees. Upgrade, downgrade or cancel anytime.