Video Texting is Here!
Updated August 9th
Now you can easily send videos in Clearstream! Upload a prerecorded video, or use our in-app video tool to record a video directly in your Clearstream account. Send weekly announcements, an encouraging word, or a welcome video for your visitors. Your video will be attached in your text as a custom link. Depending on the phone and whether someone has you saved as a contact, the video will play in their texting app or open in a web browser.
Why video?
Video feels more personal than written text. Tone, emotion, the familiar voice. Video helps your message feel more authentic and meaningful.

Video allows you to share more information in less time.

Video increases engagement. Texting has a 97% open rate which is very high. But with video, people are more likely to not just open your messages, but engage with them.
How much does video cost?
Nothing. It costs nothing. Oh, and it's free.
This feature is free and it's available in your Clearstream account right now. Including a video won't use additional credits, but your short video link will count toward the character length of your text.
How does video work?
From the Messages page, or within a workflow, type out a short and sweet text, hit the + button, and add a video.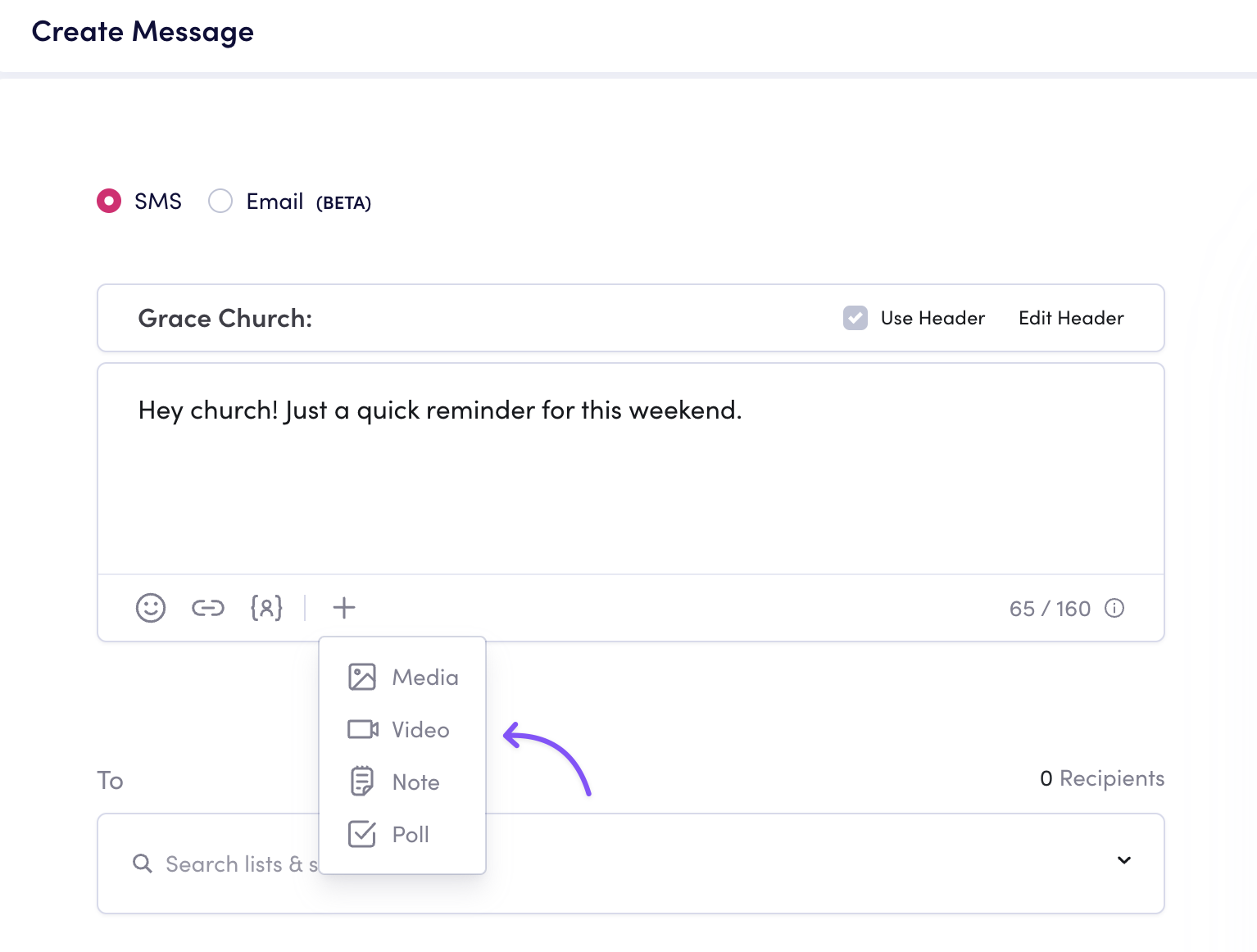 From there, a video modal pops up with a preview of your camera. You can choose Portrait or Landscape ratio. Add a title and record in 3...2...1.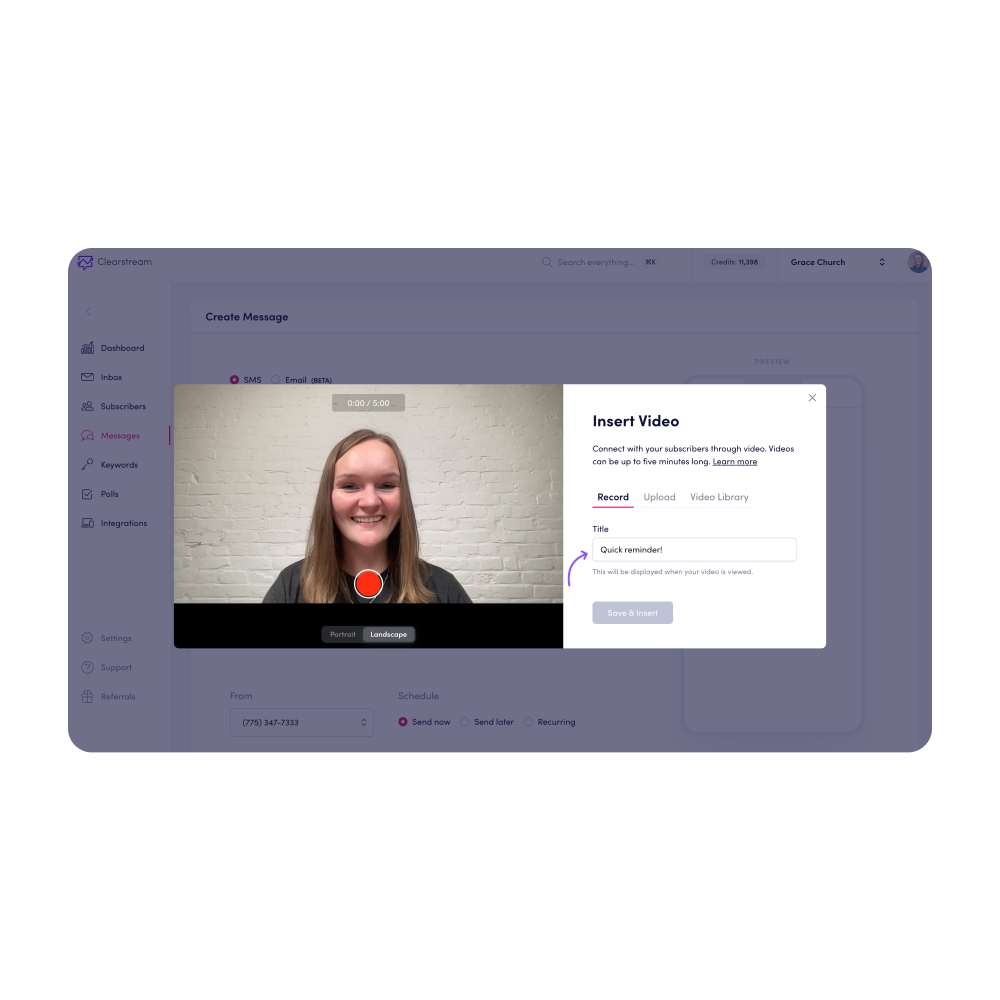 After you've recorded, you can re-record or insert the video into your text.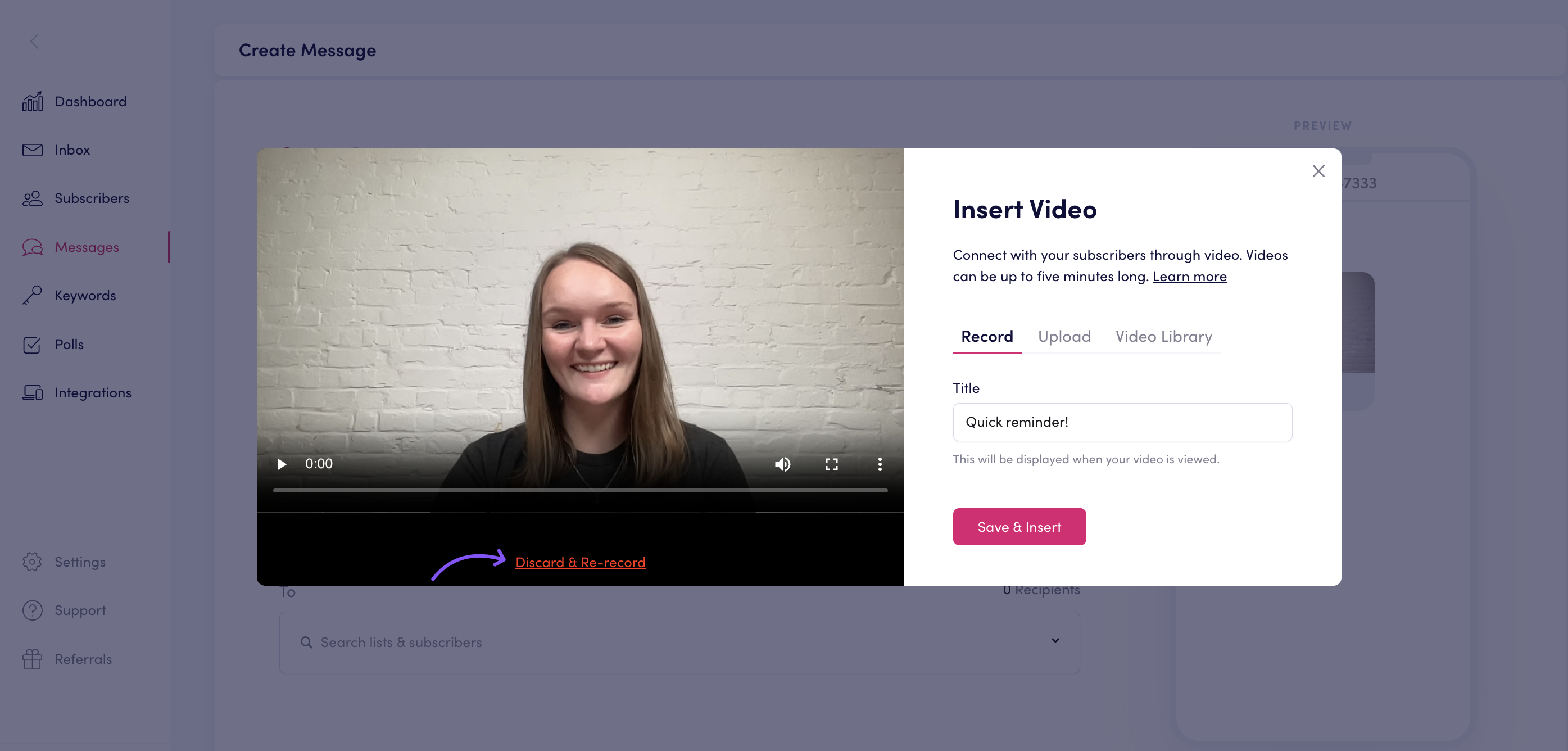 Some people will receive your video as a preview with a thumbnail. Others will receive it as a link. This depends on each mobile device and whether or not someone has your number saved as a contact. We recommend sending your church's vCard before sending videos. This will help your videos play in-line.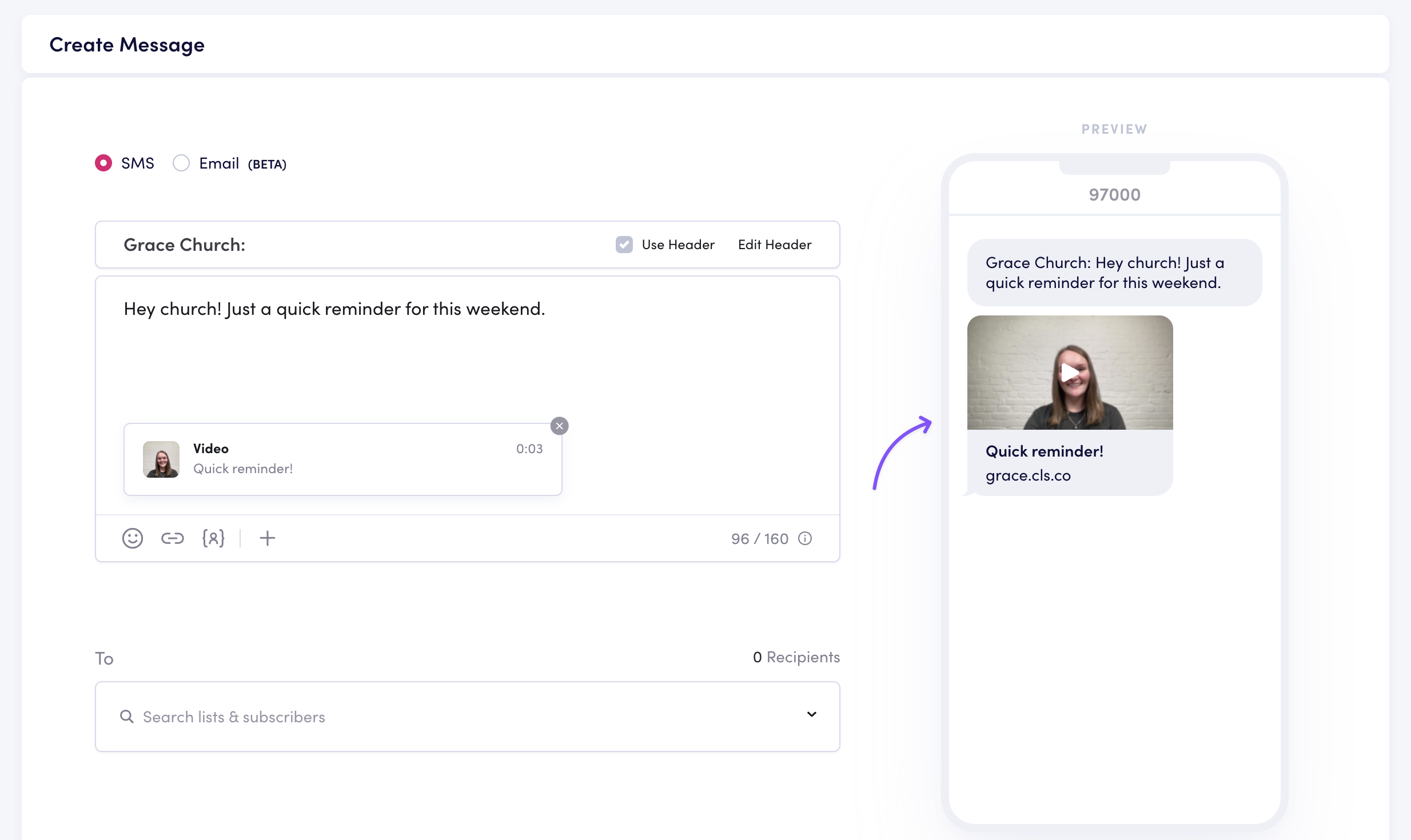 If you have a video your team has already created, you can also upload prerecorded videos. Almost any format will work as long as the video is under 5 minutes long.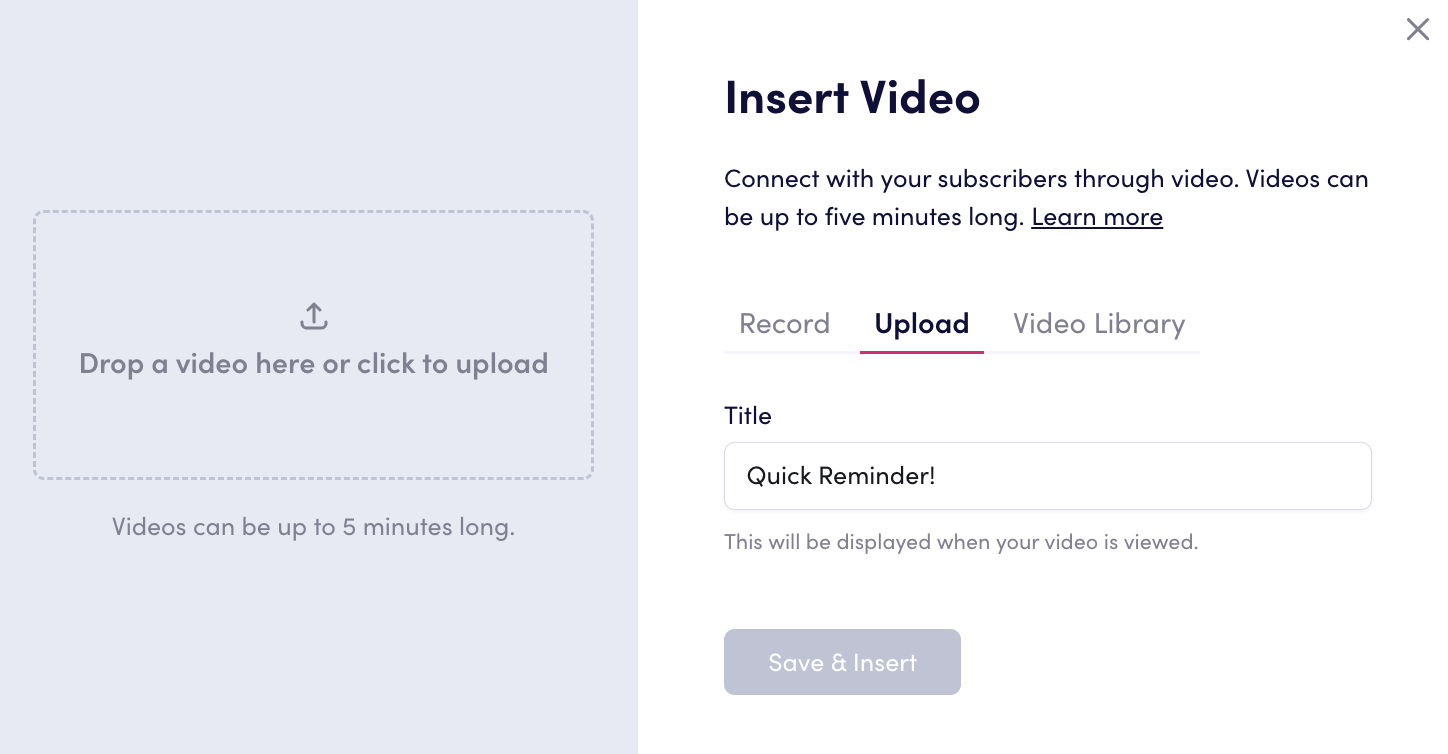 Every video you record or upload is stored in your video library, so you easily can view and reuse these videos.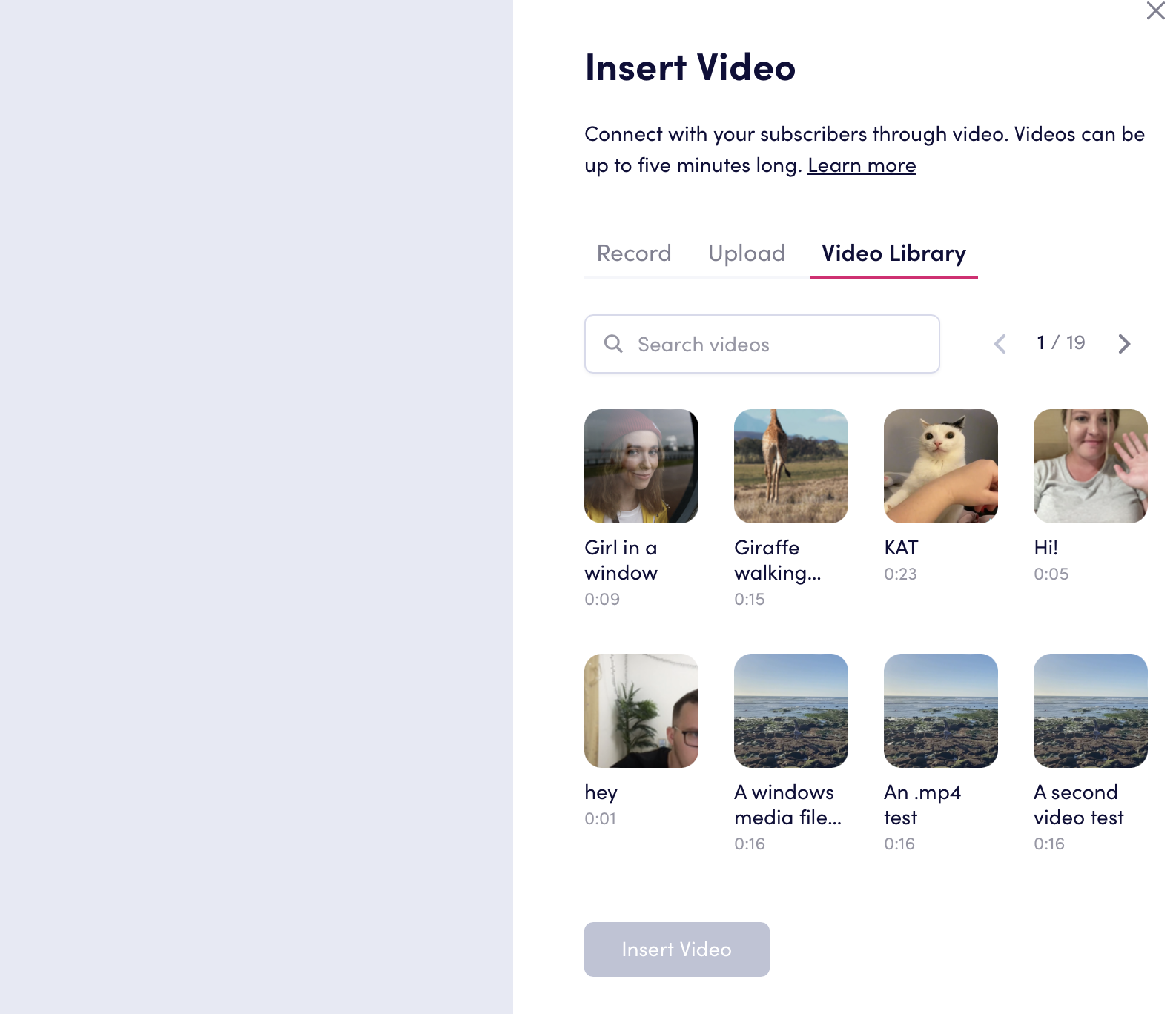 Video Updates
We've been rolling out video in phases. Here's a look at our timeline, and what's coming next.

What you can do now:
- Record and send videos in Clearstream. (launched June 19) 🎉
- Save videos to your library. (July 3)
- Attach videos to workflows. (July 11)
- Upload prerecorded videos. (August 3)
What's coming:
- Customizable thumbnails.
- Audio transcription.
- Video inbox replies.
Ways churches use video
Announcements - Send weekly announcements from your pastor or staff leader. Something like "Hey guys, this week we've got exciting things coming up..."
Guest Follow Up - Send a short personal video to your first time guests. Give a brief overview of what to expect, or send a video Sunday afternoon thanking them for joining.
Devotionals - Maybe you're walking through 21 Days of Prayer or the book of Proverbs. Send a short devotional on the daily Scripture.
Training - Send a video to new volunteers to share your heart behind the ministry. Or send a step-by-step video on how to prepare and serve the coffee.
Tips for recording videos
Lighting - If you don't have professional lighting gear, no worries. Find a well lit room or record facing a window. Or check out Wistia's $100 DIY lighting kit.

Audio - Stay away from loud areas with background noise. If your room has a bad echo, you can dampen it with sound panels (or blankets and pillows 😉).

Camera - Your webcam is an easy way to capture a quick video, but if you want to use a better camera, you can easily upload an existing video from your phone or one created by your media team.

Length - Sometimes a video needs to be a few minutes long. Sometimes 30 seconds will do the trick. If you have multiple things to mention in your video, make a list to reference. This will prevent you from getting off track, and help your viewers stay engaged.
There's also something to be said about a raw, unpolished video that feels more authentic. Don't overthink it too much. Ultimately the point is for you to better engage with your church. And if you feel nervous to send your first video, test it out with friends or staff before sending to your entire church.
Have questions about video?
We'd love to answer them! Reach out in chat or schedule a Zoom call. Thanks for reading and happy recording!